Wednesday, March 20th 2013
Follow Us On Social Media:
Facebook: www.facebook.com/rtenature
E-mail Us: mooney@rte.ie
Caring For Wild Animals
Please note that many species of mammals, birds, invertebrates etc... are protected under law and that, even with the best of intentions, only someone holding a relevant licence from the National Parks & Wildlife Service should attempt the care of these animals. For full details, please click here to read the NPWS Checklist of protected & rare species in Ireland. If you are concerned about a wild animal, please contact your local wildlife ranger - click here for details.
Events & Listings
Click here for a full list of events taking place around the country, and movies currently on release, which might be of interest to wildlife lovers!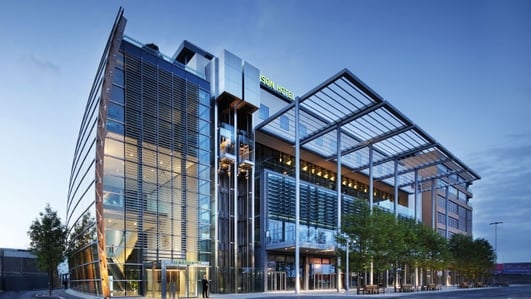 Mooney Tunes/ Gibson Hotel Competition
Mooney Tunes 8 takes place next Sunday, March 24, at the Bord Gáis Energy Theatre. Doors open at 7pm, and the show begins at 8pm. And what a show we have lined up for you!
Classical music has always been a staple of Mooney Tunes programmes, but this time round, we have excelled ourselves!
We will be joined by one of Ireland's premier sopranos, Claudia Boyle, and top British tenor Lawrence Thackeray. And they will be doing some of the best loved duets from the operatic repertoire.
And if you have never heard an orchestra in full flight with a 60 piece choir, you are in for a real treat on Sunday night. Two of Verdi's most famous choruses will form part of our program, performed by over sixty male and female voices, with the full backing of the RTE concert orchestra.
Mary Byrne will be with us once again. Oliver Callan will be on hand to keep you rolling in the aisles of laughter. We have a very special Elvis Presley tribute lined up, as well. And a few surprises along the way!
Now, some good news!
The Gibson Hotel, over at the Point Village, has offered us an overnight stay on Sunday night, with breakfast the following morning, for two people attending the Mooney Tunes concert.
The Gibson hotel is walking distance from the Bord Gais Energy Theatre. It's on the LUAS line, so it has brilliant access to the city centre as well. AND, they have included dinner for two on Sunday evening as well!
So how about that? Have a nice early evening meal. Stroll across to the theatre. Have a relaxing drink. Enjoy the show. And stroll back along the river for a relaxing night at the Gibson hotel!
Here's what you have to do to win this prize:
First of all, the competition is open to ANYBODY who has already bought tickets for Mooney Tunes, this Sunday. And to anybody who buys tickets up to midnight tonight.
Just write to us at our e-mail address, mooney@rte.ie . And tell us why you deserve this prize. It's that simple. You have until midnight tonight! We will read all the entries first thing tomorrow morning and announce the winner at the beginning of tomorrow's show.
But this part is very important. You must include your booking reference, or ticket number, on your entry. Okay? Don't forget that. It is very important.
And if you want to enter, and are buying tickets this evening, you can do so by logging onto www.ticketmaster.ie.
You can also call 0818-719377. That's the the Bord Gáis Energy Theatre dedicated line at TICKETMASTER. Or you can buy tickets in person, from the theatre box office, without a booking fee. Tickets start at €14.50, and go up to €39.50.
Hedgerows: It is an offence to 'cut, grub, burn or otherwise destroy hedgerows on uncultivated land during the nesting season from 1 March to 31 August, subject to certain exceptions'. For more information, click here.
UPDATE: February 29th 2016 - Press Release From BirdWatch Ireland:
Putting the record straight: Dates for burning and hedge-cutting have NOT changed
BirdWatch Ireland, Ireland's largest conservation charity, is very concerned about misinformation that is currently circulating regarding the dates within which the burning of vegetation and cutting of hedges is permitted. It would like to remind landowners that all burning and cutting must cease on 29th February this year and that burning and cutting remains prohibited from 1st March to 31st August.
Despite attempts by the Minister for Arts, Heritage and the Gaeltacht, Heather Humphreys T.D., to change the laws regulating these dates by introducing the Heritage Bill 2016 earlier this year, it is important to note that the proposed date changes were ultimately NOT made. This is because the bill failed to pass through both houses of the Oireachtas before the recent dissolution of the Dáil in advance of the general election.
The laws in place governing the dates for hedge-cutting and upland burning therefore remain unchanged. The period within which cutting and burning is prohibited are set down in Section 40 of the Wildlife Act 1976 (as amended in 2000), which states that:
(a) It shall be an offence for a person to cut, grub, burn or otherwise destroy, during the period beginning on the 1st day of March and ending on the 31st day of August in any year, any vegetation growing on any land not then cultivated.
(b) It shall be an offence for a person to cut, grub, burn or otherwise destroy any vegetation growing in any hedge or ditch during the period mentioned in paragraph (a) of this subsection (above).
The existing law provides exemptions for road safety and other circumstances and should be read carefully to ensure compliance.
Section 40 of the Wildlife Act exists to protect nesting birds. Many of our upland bird species are in decline and are in danger of extinction in Ireland; amongst them is the Curlew, which has declined by 80%. Many birds which nest in hedgerows into August are also in serious decline, including the endangered Yellowhammer. The changes to the cutting and burning dates which had been proposed in the now-defunct Heritage Bill 2016 would have caused serious impacts to these birds. A petition launched by BirdWatch Ireland in conjunction with several other national conservation organisations to stop these changes attracted more than 16,200 signatures and rising.
BirdWatch Ireland would also like to advise members of the public that if they see hedges being cut or fires in the uplands on or after 1st March, such activity could be illegal. In such cases, we would encourage people to contact the National Parks and Wildlife Service (www.npws.ie) to report such activity.
BirdWatch Ireland warmly welcomes the demise of the Heritage Bill 2016 and sincerely hopes that any future administration will consider the importance of Ireland's natural heritage and will not attempt to reintroduce such a flawed and damaging piece of legislation.
To contact your local wildlife ranger, click here for contact details. To read the Wildlife (Amendment) Act 2000, click here.
IMPORTANT NOTICE
Please DO NOT send any live, dead or skeletal remains of any creature whatsoever to Mooney Goes Wild.
If you find an injured animal or bird, please contact the National Parks & Wildlife Service on 1890 20 20 21, or BirdWatch Ireland, on 01 281-9878, or visit www.irishwildlifematters.ie
***CLICK HERE TO FIND OUT EVERYTHING YOU NEED TO KNOW ABOUT DAWN CHORUS 2017!***
***Download the Dawn Chorus 2017 podcasts***
Dawn Chorus 2017 - First Hour - 00:00 - 01:00
Dawn Chorus 2017 - Second Hour - 01:00 - 02:00
Dawn Chorus 2017 - Third Hour - 02:00 - 03:00
Dawn Chorus 2017 - Fourth Hour - 03:00 - 04:00
Dawn Chorus 2017 - Fifth Hour - 04:00 - 05:00