NestWatch 2013 - Blue Tits
We've got a pair of Blue Tits in our first nest of the year located at Derek's house in Dublin. The nest is almost complete and the female has now laid seven eggs!
NestWatch 2013 - Swallows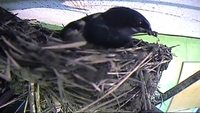 We're watching a pair of Swallows building a nest in a shed behind Áras an Uachtaráin.