John Lusby Kestrel Blog 2013
***MOONEY GOES WILD WINS ROSE D'OR AWARD!!***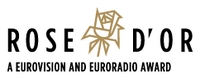 The prestigious annual Rose D'Or Awards (now in their 55th year) honour the very best of international radio, TV and online entertainment programmes, and the awards ceremony took place last night (Tuesday, September 13th 2016). Over 400 programmes from more than 130 broadcasters and production companies in 33 different countries were submitted for this year's Rose d'Or awards. For the first time, a new competition category, 'Radio Event Of The Year' was created. We entered European Dawn Chorus in this category, and we're absolutely delighted to let you know that ... drumroll... WE WON!!! We're absolutely thrilled to pieces, and a massive thanks to all our EBU and BirdLife International partners, we couldn't have done it without you! Click here to read more about the 2016 Rose D'Or awards (in which legendary funnyman John Cleese picked up the Lifetime Achievement award), and click here to relive - and re-listen to - all the beautiful Dawn Chorus birdsong from right across Europe.
***STOP PRESS*** Dawn Chorus Picks Up Another Award!
We're thrilled to let you know that on Friday, October 7th, the Dawn Chorus won the Innovation Award at the PPI Radio Awards in Kilkenny!
***To visit The Mooney Show website, click here!***
Facebook: www.facebook.com/rtenature
Twitter: @naturerte
July 3rd 2013
"Protecting what's yours!"
The oldest chick is now approximately 23 days old. We know roughly how old they are because before we installed the nest camera we ringed all four birds (note the small metal ring on their right leg) and also took specific wing measurements which allows us to estimate their age with reasonable accuracy. Young Kestrels generally start to leave the immediate nesting area from about 28 days old, so its only a matter of time before the more developed chicks start to take a wander around the barn. There first explorations will usually be a combination of flapping and jumping, but they will continue to regularly return to the nest at this stage to collect food from the parents.
Even inside the nest box they are starting to prepare for their first flights, as they exercise the muscles in their wings.
The prey deliveries now happen in a matter of seconds, and once one of the chicks has managed to grab the prey item which has been brought to the nest by one of the adults they stake claim to it immediately by turning their backs on their siblings and "mantling" the prey. This is classic bird of prey behaviour to protect prey from being robbed by other predators. The Kestrels are now well capable of tearing up any prey now as they stand on top of the carcass, turn their backs on the other chicks and spread their wings over the prey item to make it difficult for the others to sneak in and take a morsel!
To check out some recent clips of Kestrel chicks handling and mantling prey from another nest box in Kerry which is monitored by BirdWatch Ireland follow the links
http://www.irishraptors.blogspot.ie/2013/07/birds-on-menu-for-young-kestrels.html
http://www.irishraptors.blogspot.ie/2013/06/kestrels-chicks-fed-common-lizard.html
&
http://www.irishraptors.blogspot.ie/2013/06/kerry-kestrel-nest-activity.html
July 1st 2013
"Life outside the nest box"
The Kestrel chicks are developing at a rapid pace and have changed dramatically over the past week as they continue to loose their fluffy down and develop flight feathers.
Female Kestrels are very attentive mothers, they rarely leave the eggs or young chicks for more than a few minutes during the early stages of the nesting season. To see a clip of a female Kestrel incubating eggs which was recorded at another active nest site earlier this season, click on the following link. More of these clips to follow.....
Female Kestrel incubating: http://duhallow.blogspot.ie/2013/05/a-female-kestrel-incubating.html
Last week we watched the female at the nest box bring prey directly into the nest box and tear it up into manageable "bite-sized" portions for the chicks. The image below shows the female tearing up a mouse and feeding the chicks. However, the chicks are now at the stage that they can handle most prey items themselves and are now strong enough to tear up prey by themselves using their powerful beaks. The visits to the nest from both the male and female now generally consist of a quick food drop and brief inspection to make sure everything is ok inside the nest. Over the weekend quite a selection of prey was brought into the nest, from a frog to small rodents and birds.
The chicks are starting to become noticeably more active in recent days, and wing stretching will soon develop to frantic flapping inside the nest box as they take the first steps towards learning how to fly. Earlier today it was obvious that they are starting to become curious about life outside the nest box as they peered over the top of the box into the surrounding farmyard, probably just eagerly awaiting the arrival of the adults with food, but soon they will be out there flying around for themselves....albeit clumisly at first!