Chef Paul Flynn joins Marian in studio with some handy time saving Christmas preperation recipes.
CHOCOLATE AND HAZELNUT COOKIES
Makes 25 cookies
Ingredients:
150g butter
80g caster sugar
75g crushed hazelnuts
300g flour
Pinch baking soda
225g small chocolate pieces good quality plain chocolate
Method:
Beat together the butter and sugar
Add the hazelnuts, flour and baking soda
Beat until the mixture comes together.
Add the chocolate chip
Divide in two halves and roll in cling film into sausage shape to refrigerate for one hour.
Cut in 1/2 centimeter slices and place on a greased baking tray.
Bake in a preheated oven 170 c for 20 - 25 min until golden brown.
Once rolled the mix can also be frozen.
CHOCOLATE MARQUISE
Ingredients:
500 ml double cream
100g icing sugar
350g butter
200g caster sugar
175g cocoa powder
9 egg yolks
175g dark chocolate.
I vanilla pod
Method:
Whip yolks and caster sugar until light and fluffy
Whisk cream, vanilla and icing sugar till at soft whipped stage.
Melt butter, chocolate and cocoa powder in a bowl over simmering water.
Add chocolate and butter mix to the eggs and sugar mix by folding in the chocolate mix.
Fold in the cream mix
Pour into a greased ring mold or into a loaf tin that has been greased and lined with cling film. Coverin cling film and freeze.
CHORIZO, ORANGE AND ALMOND STUFFING
This will make enough stuffing for 2 ducks.
Ingredients:
Small handful of raisins
Small handful of almonds
100g butter
1 small onion finely chopped
Splash of olive oil
150g chorizo finely diced
2 tablespoons chopped fresh flat-leaf parsley
Finely grated rind of one orange.
225g fresh white bread crumbs
Salt and ground pepper.
Method:
To make the stuffing soak the raisins in a bowl of boiling water for 20min then drain.
Toast the almonds in a frying pan for a few minutes tossing occasionally so they color evenly.
Melt the butter in a pan and gently sauté the onion for 3 or 4 minutes until soft but not colored, tip into a large bowl
Heat the olive oil in a frying pan and sauté the chorizo for 2 minutes until the chorizo color starts to bleed
Add onion, soaked raisins, toasted almonds, parsley, orange rind and bread crumbs
Season to taste and mix lightly.
CRANBERRY ICE CREAM
Ingredients:
260 ml plain yoghurt
200ml cream
140g sugar
3 heaped tbsp. of cranberry sauce
Method
Mix the yoghurt, cranberry sauce and cream and sugar together
Pour into the ice cream maker cylinder and it will be ready in 30 min.
FIG CHUTNEY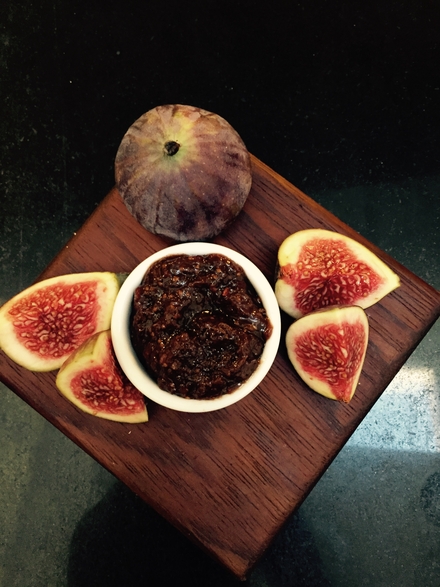 Ingredients:
300g dark brown sugar
10 large figs
150ml cider vinegar
150ml white wine vinegar
300g chopped onions
320g dried cranberries
1tsp allspice
1 star anise
1/2 tsp cracked black pepper
1 cinnamon stick
1 tsp juniper berries.
Method:
Combine the sugar and vinegar and bring to the boil
Chop the figs and remove the stems, its fine to leave the skin on.
Add the figs, cranberries, onion and spices to the saucepan and bring to the boil.
Lower the heat and simmer gently until the onions and figs have softened, usually 35 minutes.
Blitz and store in sterilized jars whilst still hot and store in your fridge.
BANANA GINGER BREAD
Ingredients:
150g self raising flour
1/2 tsp ground ginger
70g demerara sugar
70g butter
60g treacle
120g golden syrup
1 egg
2 ripe bananas
Method:
Grease and flour a loaf tin
Melt butter, golden syrup and treacle in a pot on a gentle heat.
Sieve flour and ginger together.
Mix the egg with mashed up bananas
Fold everything gently into a mixing bowl
Pour into the tin and bake at 170c for 40-50 min
MINCE PIES.
Ingredients:
225g flour
60g icing sugar
150g butter at room temp
1egg yolk, 1 tbsp. ice cold water, 1/2 lemon juice - mixed together in a cup.
Method:
Sieve flour and icing sugar together.
Whiz half the flour/sugar in a food processor, add butter and egg mixture.
Pulse to bring mixture together, add remaining flour, pulse again until a soft dough is formed.
Wrap in cling film and chill for one hour.
Have ready 1 twelve-hole mince pie tray, roll out 2/3 pastry thinly on a lightly floured table.
Cut pastry into rounds with a fluted cutter which is larger than the holes in the tin.
Line the tin with the rounds, place one heaped teaspoon of mincemeat in each, roll out remaining pastry and cut out slightly smaller rounds so that they will fit the tops.
Brush the edges of the tartlets with water and place smaller rounds on top, sealing them with your fingers.
Prick each tartlet with a fork.
Lightly beat your left over egg and brush each tartlet with egg white and sprinkle with caster sugar.
Bake at 180C for 20 min. When cooked cool on wire rack.
POACHED PEARS IN MULLED WINE
Ingredients:
8 almost ripe pears peeled carefully to keep their shape
1 bottle red wine
2 tbsp. redcurrant jelly
2 cinnamon sticks
4 cloves
2 bay leaf
300mls water
Juice and peel of 1 orange
100g demerara sugar
Pinch black peppercorns
Method:
Place all the ingredients in a deep saucepan
Cover with a layer of greaseproof paper and poach gently for around 25min until soft but not mushy.
Leave to cool and refrigerate in the liquid.
The liquid can be reduced to form a syrup for ice cream or add red wine vinegar and olive oil as a dressing for a salad or if you're feeling adventurousyou could turn it into a sorbet. Whatever you do don't waste it. You could always freeze it and use it at a later date to do more pears.
SPICED CLEMENTINE CURD
Ingredients
Grated zest and juice of 7 clementine's
3 lemons
400g caster sugar
4 eggs beaten
3 egg yolk
A good pinch of cinnamon
1 star anise
130g cold butter diced.
Method:
Combine the zest and juice of the fruits with the sugar.
Add eggs, yolks and butter and spices and cook out over a medium heat until it coats the back of a spoon.
Store in a sterilized jar.
Notes:
This curd is unbelievably versatile and moreish.
Wonderful on toast or with croissants for breakfast.
Or paired with ice cream or the chocolate marquise for your Christmas day dessert.
Make early December.
SWEET POTATO, CHICKPEA AND CAULIFLOWER KORMA.
Serves 4
Ingredients:
1 onion finely diced
2 cloves of garlic chopped
1 knob of ginger peeled and grated
3 tbsp. sunflower oil
1 stock cube
1 tin of chopped tomatoes
1 tin chickpeas rinsed
1 sweet potato peeled and cut into small chunks
1 small cauliflower cut into florets
1 packet of green saffron mix or 1 tbsp. curry paste
150mls cream or natural yoghurt.
Method:
Sweat the onions, ginger and garlic in the oil for 10 minutes
Add the spices and cookout a little.
Add all the vegetables, tomatoes, stock cube and cream, if you think it's a little dry add 1/2 cup of water to the pot.
Cook gently for 20min until all the veg are soft but not mushy.
Season and serve garnished with basil or coriander.
Notes:
This lovely dish serves a number of purposes, it changes the flavors of Christmas for the family. It will keep any vegetarians happy and you can also fold any leftoverturkey through
SWEET POTATO GRATIN
Ingredients:
3 large potatoes peeled and thinly sliced
1 sweet potato peeled and thinly sliced
2 cloves garlic peeled and crushed
350ml cream
200mls milk
Salt and pepper
Pinch of fresh thyme leaves (optional)
Method:
Put the cream, milk and garlic in a pot and bring to the boil.
Add all of the sliced potatoes to the pot and season.
Cook on a gentle heat until the potatoes are nearly cooked
Taste the mixture to make sure you are happy with the seasoning
Transfer into a casserole dish and flatten down to make sure you have a nice creamy topping
Now you can put it in the fridge for the next day or cook it straight away.
Bake at 180c for 15-20 minutes until fully cooked and golden.
TANNERY MINCEMEAT SAUCE
Ingredients
2 granny smiths peeled cored and diced into 1cm cubes
1 handful of pecans spilt lengthways
2 slightly firm bananas, diced the same as the apple
1 pinch of raisins
1 knob of butter
1tbsp demerara sugar
Zest and juice of 1 orange
Splash of dark rum
1 pinch cinnamon
Method:
Melt the butter in a pan
Add the sugar and caramelize slightly
Add the zest, juice, fruit, and cinnamon and cook the mixture for 5 min on a medium heat until everything softens slightly
Add the rum and bring to the boil
Remove from heat immediately.
Notes:
What makes this special is the use of banana and rum in this recipe... so it's possible to persuadeeven mincemeat haters to love this version. If you add a little apple juice you can thin it down and use it as a hot sauce over ice cream if you didn't want to make your own mince pies.
Make in late November early December and keepin the fridge.
TURNIP, CIDER AND THYME SOUP WITH BLACK PUDDING CRUMBLE.
Serves 6
Ingredients:
1 turnip peeled and diced
2 onions peeled and diced
A small piece of ginger peeled and chopped (40g)
A splash of veg oil
A knob of butter
A pinch of cinnamon
1 chicken stock cube crumbled.
1 1/2 liters of water
1 tbsp. flour
A sprig of thyme
1/2 tbsp. of English mustard
1 can of dry cider (440mls)
1/3 of a black pudding finely chopped.
Method:
Put the onion, thyme, ginger, veg oil and butter into a pot and cook slowly, the longer you take the better as your onions will get really sweet.
Add the turnip, cinnamon and flour and mix together well
Add the cider, stock cube and water and bring to a simmer
Preheat your grill and put a splash of oil on a tray, add your black pudding and turn in oil and grill for a few minutes until just a little crispy.
After 40 min or so or when your turnips are soft , pick out your thyme, add mustard and blend the soup, season and serve with the black pudding scattered on top and some picked fresh thyme leaves.