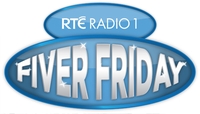 FIVER FRIDAY 2013 IS NOW OVER. Some businesses may continue their special offers but these are not part of the Liveline Fiver Friday initiative.
On Friday 6th December 2013, Liveline's Fiver Friday returns.
Joe Duffy's Liveline on RTÉ Radio 1 came up with a simple but effective idea to help businesses across the country in 2011. Fiver Friday asked people to spend an extra €5 with a local business, retailer or supplier in an effort to boost turnover and save jobs. Businesses were invited to offer a Fiver Friday deal of their choice to encourage customers to spend their money locally. From a small idea grew a big campaign, with hundreds of businesses getting on board.
Following the success of the original Fiver Friday, and with Christmas approaching, the Liveline team are inviting businesses across Ireland to get involved with Fiver Friday, which will take place on Friday 6 December.
Get involved with Fiver Friday
Businesses can log on to the Liveline website to download a full-colour A3 'Fiver Friday' poster which they can display in their place of business.
There is space on the poster to detail your business's unique Fiver Friday deal. Click here to download the poster
Log on to the Radio 1 Fiver Friday Facebook Hub to let the public know what Fiver Friday deals are available at your business. Visit www.facebook.com/RTERadio1
Email the Liveline team to let them know your business is getting involved: joe@rte.ie
Discover the deals
Tune in to Liveline on RTÉ Radio 1 every weekday between 1.45pm - 3pm for the latest Fiver Friday updates alongside the usual agenda-setting discussions from Joe Duffy and the Liveline callers.
See the list below of the €5 deals on offer around the country, listed by province. Or log onto the Fiver Friday Facebook Hub to discover the latest deals that have been posted by participating businesses: joe@rte.ie
Share The News
Use the Fiver Friday Facebook Hub: www.facebook.com/RTERadio1
Use the Fiver Friday Twitter hashtag: #FiverFriday
Use word-of-mouth: spread the word!
___________________________________________
LEINSTER
at all 7 branches of Bargaintown - €5 each for a limited supply of Irish-made rugs, pine children's bed frames, 100% wood dining suites and €5 deals on a selection of smaller items (delph, pillows etc) / www.bargaintown.ie
O'Grady's Hearing Care Services, Blanchardstown - the first 50 customers get a year's supply of hearing aid batteries for €5
River Beauty, Blanchardstown village, Dublin 15 - hand or feet nail file & polish €5 and eyebrow shape €5 / Tel: 861 5000
Canavan & Byrne are hosting a 'healthy eating & nutrition for children' seminar at the Crowne Plaza Hotel, Blanchardstown on 11 January 2014. For parents and childcare practitioners. Book your place today and pay €5pp / Tel: 01 623 5908
Feet & Co in Drumcondra, Dublin 9 - 55 pairs of plimsolls at €5 each / http://feet.ie/
Cafe By Day, Drumcondra - toasted ham & cheese sandwich, crisps + can for €5
selected meal deals at the Gallery Café & Restaurant, Drumcondra
Dublin Crystal, Dundrum, Dublin 14 - glasses repaired for €5 and €5 special on crystal Christmas decorations / www.dublincrystal.com
Cyclepower, Walkinstown, Dublin 12 - €5 each for a full bicycle service, cycle helmet, high-viz vest / www.cyclepower.ie
osteopaths at the Littlejohn Centre, Walkinstown, Dublin 12 will do a health and spinal check for €5 today / Tel 01 456 0300 for further enquiries / www.littlejohncentre.ie/
Castleknock Electric will install a security light for €5 to the first order from Dublin on Fiver Friday / www.castleknockelectric.ie
Duggan Jewellers, Fairview, Dublin 3 - ear-piercing for €5 and all watch batteries €5
Bram's Café, Marino, Dublin 3 -€5 meal deal / www.bramscafe.ie
Palmerstown Veterinary Hospital, Dublin 20 - have your dog or cat's nails clipped for €5 and 3kg bag of Hills puppy food for €5 / www.anicare.ie
Clondalkin Builders Providers - €5 deals on briquettes, bags of kindling, oak laminate flooring and foam underlay / http://cbpl.ie/
Sound Decision, Clondalkin - a diagnostic check for cars for €5 / Tel: 01 457 8050
Brendan Higgins, artist, based at pitch 21/22 East St Stephen's Green railings - hand-painted portrait + frame for €5 (RRP €45) to the first 10 clients / www.popartdublin.com
a range of businesses in Finglas village - Body Concepts, Carmine's Takeaway, Wallace Travel, Vavasseur florists, Pater Mark hairdressers, Superpharm, Finglas Pet Supplies, X-It, Lino Ritchie, Dolan's Butchers, Molloy's Liquor Store,BoXX Barbers, Abrakebabra, Connolly's Fish Company, Foto One, Iceland, Tunney Opticians, Complete Furniture, Seasons, Dealz, Mace, Auntie Nellie's sweet shop, Bag City, Finglas Enterprise Centre, Shea Mulhall Barbers, Finglas Village Centre Dry Cleaners
Anicare Veterinary Group (Glasnevin, Clontarf, Blanchardstown, Palmerstown & Santry) - €5 deals on nail clipping, anal express and also 3kg bags of Hill's puppy food / http://anicare.ie/
Duffy's Pub, Malahide - beer battered cod + chunky chips for €5
Dee's Nail Salon, The Courtyard, Dalkey, Co Dublin - nail file & paint for €5 (RRP €15) / Tel: 087 232 6348
€5 offers in Ballyfermot, Dublin 10 - trouser shortening at Altered Clothing (623 9664), men's gift set at Lloyds Pharmacy, various items at Doran's Drumfinn and organic compost at Cherry Orchard Community Garden, ABS DIY (in Ballyfermot and Bluebell)
Eurospar, Ballyowen, Lucan - €5 deal on full Irish breakfast and get a ladies/gents suit dry-cleaned for €5
a one-to-one consultation with Pauline at the Lucan Education Support Services (offering help & support to early school-leavers, for back-to-education, third level applicants and exam preparation) - FREE to early school leavers and €5 to adults and students / email paulineevansless@gmail.com / mobile 085 714 5239
at Doyle's Nursery, Cabinteely, Dublin 18 - selected Christmas decorations for €5 (RRP €12 +) / www.doylesnursery.com
Elaine's Beauty in Cabinteely has a selection of €5 treatments / www.elainesbeauty.ie
Gaskin Centre, Glasnevin - €5 for a bag for life containing local produce (potatoes, banana cake, carrots + mixed veg)
Glasnevin, Dublin 9 - a tour of the Glasnevin cemetery and entry to the museum for €5 today / www.glasnevintrust.ie
Cara Vets (branches in Blanchardstown, Dublin 15 and Phoenix Park Gate, Dublin 7) - get a health check + microchip for your pet for €5 (RRP €45) and save 10% off future procedures booked on Fiver Friday / www.caravetgroup.com
Lenehan's hardware shop on Capel Street have great deals on chrome bathroom fittings, paint, electrical & gardening items / www.lenehans.ie
a fantastic chance to join Ballymana Par 3 18-hole golf course (off the Kiltipper Road, Tallaght) - on Fiver Friday the first 10 callers who talk to Frank Ruane on 086 053 1429 can get a full year's membership for 2014 with unlimited playing for €5 (RRP €100)
Hazel Grove Golf Club in Tallaght - €5 for a round of golf (offer valid until 31 December) / www.hazelgrove.ie
at the Village Green Shopping Centre in Tallaght, Dublin 24 almost every shop is offering €5 deals today - Priory Vets, Bliss Hair & Beauty, Spar, Leisureplex, Celine's Flowers & Gifts, Tallaght Pet Store, Molloy's Pub & Off-Licence (special offers will continue on the last Friday each month) / www.villagegreentallaght.ie
Tom and Chona at the Café Manila, Middle Abbey Street, Dublin 1 have combined a great €5 meal-deal with charity - 100% of the €5 you spend on their special goes to help victims of Phillipines typhoon re-build their lives
Red Cow Moran Hotel at the Red Cow Roundabout - on Fiver Friday only, to see either Dave Young, Mary Byrne or Pump Up The Jam shows at a very special price ring 01 459 3650, quote 'Fiver Friday' and pay just €5pp / www.redcowmoranhotel.com/
pay just €5 to see The High Kings perform at the Button Factory in Temple Bar for one hour on Fiver Friday, from 1pm-2pm. All involved have donated their time free of charge, in aid of the Simon Community. Tickets via www.thehighkings.ie or at the Crowbar venue from 5pm on Thursday 5th Dec
Merrion Tree Bistro at Mount Merrion - special breakfast & lunch deals for €5
Brady's Butchers (in Orwell, Fairview, Belvedere Road and Newcastle) have a range of €5 deals on chicken, pork, sausages and more (offers run Fiver Friday and every Friday for rest of Dec)
a great chance to be at the RTÉ Concert Orchestra's 'Cinema Choral Classics at Christmas' concert at the National Concert Hall, Earlsfort Terrace on Friday 6th. The first 100 people to click on this link https://www.nch.ie/Online/mapSelect.asp?BOset::WSmap::seatmap::performance_ids=F15EDDB8-3E13-4648-9C8C-F4DD1F3D4209 and quote the special discount code Joe will announce live on the show will pay just €5 per ticket. www.rte.ie/orchestras/2013/1206/cocinema.html / www.nch.ie
Sandymount Hardware, Dublin 4 - special offers on Christmas products (plus 5% of takings on Fiver Friday will be donated to local charities) / https://www.facebook.com/SandymountHardware
Signature Florist, Cork Street, Dublin 8 - selection of bouquets and plants for €5
Silver Dream IT, Dublin 8 - pay €5 for a one-hour computer tuition and full computer maintenance service in your own home (applies to the Dublin 8 area) for all orders received on Fiver Friday, from 1.45pm - 3pm (RRP €25) / Tel: 01 244 4141 / 087 747 4713 / Email info@silverdreamit.ie
Private Security Ireland Ltd, Dublin 8 offering their keyholding service for €5 for one year to any business in their operating area of Dublin/Kildare (RRP €200+, terms will apply). For details call 01 453 2678 or email johnkenna@privatesecurity.ie and quote Fiver Friday / www.privatesecurityireland.ie
Ark Vet Care (in Dun Laoghaire, Kill Lane and Kilmacud) offering a limited number of pet health checks for €5. Appointments must be booked (Dun Laoghaire 280 2041, Kill Lane 289 5335 and Kilmacud 278 0480). Plus, those who quote 'Joe Duffy/Fiver Friday' can get special deals on pet food
Harbour Clinic on Patrick Street, Dun Laoghaire - 20-minute Reiki and 20-minute Mindfulness Meditation sessions for €5 / email info@dublinreiki.com for more info / www.dublinreiki.com
play 12 holes of golf for €5 at Slade Valley Golf Club (next to Saggart/Brittas villages). Call 01 452 8183 to book / www.sladevalleygolfclub.ie
Hampers & Co from Clontarf will have a stand at the National Craft Fair in the RDS on Fiver Friday where you can get a wax scented candle for €5 / www.hampersandco.com
Tansey's Newsagents, Ballygall Road East, Dublin 11 - €5 deals on tins of sweets, biscuits and Christmas crackers
JC Savage's supermarket in Swords, Co Dublin - freshly-made pizzas are 2 for €5
a range of deals at the Village Butchers, Shankill, Co Dublin
at 38 St Vincent de Paul shops in the Dublin area (incl branches in Wicklow and Kildare) you can buy a fund-raising CD for €5, 'O Holy Night' performed by Affiniti with the Palestrina Boys Choir and Carlow Choral Society
Arc Bar, Liffey Valley - lunch special for €5 / www.arcbar.net
Denis the Flowerman florist in Cabra West, Dublin 7 - large range of flowers, gifts & accessories reduced to €5
Walk:Walk, the not-for-profit organisation supporting people with disabilities to have self-determined lives, have their fund-raising 'Christmas Wonderland' at Drimnagh Castle, Dublin 12 this weekend. Tickets today are €5 (RRP €15) to the first 40 people buying their tickets at the Kokonut shop on the Longmile Road (beside Drimnagh Castle school)
Woods Fresh Fruit & Veg, Lower Grand Canal Street, Dublin 2 - a 10kg bag of Rooster potatoes for €5 / www.fruitandveg.ie
Chester Beatty Library, Dublin 2 - a selection of games & books at €5 in the museum shop / www.cbl.ie
Make Up Forever, Clarendon Street, Dublin 2 - lipliner + lip gloss in Crystal Pink shade for €5 (RRP €18.50) / www.mufe.ie
at Ali's Lebanese food stall at the Percy Place, Dublin 2 and Sandyford lunchtime markets get a falafel wrap and falafel plate for €5, valid from 11.30am-2pm / www.irishvillagemarkets.ie
Kerrigan's Craft Butchers have a range of €5 deals at their shops in Donaghmede, Baldoyle and Malahide
Bree's Choice, Ballinteer, Dublin 16 - specialists in non-alcoholic drinks will have deals on selected party celebration drinks / contact the shop for more information http://breeschoice.com/
OK Sports in Rathmines, Dublin 6 - fishing rods and other sporting supplies reduced to €5 / www.oksports.ie
at the Joshua Tree Restaurant in McGarry's Pub on the Harold's Cross Road, Dublin 6W - 12" pizzas for €5 all day / https://www.facebook.com/thejoshuatreedublin
Waltons Music, South Great George's Street, Dublin 2 (and shop in Blanchardstown Centre, Dublin 15) - for €5 you can learn how to play the tin whistle with Irish tin whistle CD pack (RRP €13.50) / www.waltons.ie/product
My Vet group of clinics (in Dublin and Maynooth) have €5 specials on dog and cat grooming. Must make appointment / www.myvet.ie
Sean Murphy Butchers in Hacketstown, Co Carlow - a large range of €5 offers in-store today and every Friday
all businesses on Kennedy Avenue, Carlow town will have special offers in-store - Tivoli Dry Cleaners, Avenue Restaurant, Nursery Rymes, Fringes Hair Salon, AXA Insurance, The Music Vault, Touch Of Class ladies fashions, Buddy's Flowers
Animals First Veterinary Hospital, Kilcullen - full health check 3pm - 7pm and 5% off further medication / www.animalsfirst.ie
Killeen Golf Club, Kill - green fees for €5pp and a €5 Fryday all-day breakfast bap (every Friday until end February 2014). Must book online at www.killeengc.ie/
Haynewstown Meats, Toughers Business Park in Naas - 2 Irish rib-eye steaks for €5 / www.haynestownmeats.ie
various businesses in Prosperous, Co Kildare offering specials - Hey Day Florist, Gemini Hair Salon, Frank's Chippers and Blake's Pharmacy
Daniel Boland Café & Bar, Kildare town - special €5 lunch deal
The Elms in Punchestown - luxury bath salts for €5 (RRP €15)
Carraig Flowers & Gifts, Leixlip, Co Kildare - lots of €5 bargains on gifts and flowers / www.carraigflowers.ie
Perry's Supermarket, Athy, Co Kildare - special deals at their meat counter and on a 10kg bag of Roosters potatoes
Sean Melia Butchers' shops in Newbridge and Kildare town have 1lb sausages and 1lb rashers for €5
Kilcoole Golf Club, north Wicklow - 18 holes of golf for €5 / http://kilcoolegolfclub.com/
Stone Gallery in Greystones - Swarovski Christmas angels for €5 / https://www.facebook.com/thestonegallerygreystones
Greystones Veterinary Hospital (and Florence Road Veterinary Hospital in Bray) have €5 deals on Hill's Vet Essential food for cats & dogs
Donegal Design Factory Shop in Rathnew, Co Wicklow - selection of hats/scarves for €5 (RRP €25-€40) / http://donegaldesign.com
at Kavanagh's on the Wexford Road in Arklow get a bale of briquettes + a firelog for €5
various businesses around Arklow town taking part - laptop service at Smart Cartridge, Sue Ryder Charity Shop, Kavanagh's on the Wexford Road, accessories at McMullen's, The Blue Café, the Navvy Shop in Abbey Street, Declan at the Leinster School of Motoring, Elaine's Launderette, veg at It's Fresh, stationery at Face Value, Hair Affair, Benita's Hair Studio, the Holistic Health & Wellness Centre
Enniskerry Village Store have packs of 10 Irish-made Christmas cards for €5 (while stocks last)
Gotcha Angling in Greystones Harbour have a child's fishing rod + reel for €5 (RRP €25) plus Bass Plugs for experienced anglers for €5 - first come first served basis, call-in or book at 01 287 1122 / https://www.facebook.com/pages/Gotcha-Angling/209104272460935
Anne Gregory Design in Newtownmountkennedy will shorten trouser hems for €5 today
any main course special for €5 at Sally O'Brien's, Main Street, Arklow
a selection of hats & scarves for €5 at Rathcoole Pharmacy
Murphy's Bar, Main Street, Blessington, Co Wicklow - will have a lunch special on Fiver Friday. Also, the first two people into the bar on Fiver Friday will get their 21st birthday party for €5, finger food for 50 people, champagne, a live band and entry to the Plan B nightclub / http://murphysbar.ie/
Longford Vet Clinic - range of €5 offers on treatments & pet food / www.longfordvetatcrandara.com
Lavender Spa at the Springhill Court Hotel, Kilkenny - €5 deals on eyebrow shaping, tinting and lip/chin waxing / www.springhillcourt.com/lavender_spa.html
Longbowe green holiday home, Kilkenny-5 nights accommodation for 6 people for €5pp per night from now until 16th December / www.longbowe.ie
Gary Whelan Driving School, Kilkenny - a 1-hour lesson for €5 to new pupils booking on 6 Dec / Email gwhelandriving@gmail.com
Pestle & Mortar Giftware, Supervalu Shopping Centre, Navan, Co Meath - a selection of picture frames, Yankee candles and Christmas decorations at €5 / www.facebook.com/pages/Pestle-Mortar-Giftware/349294341273
Neil Pyne Sports & Physical Therapy, Integral Fitness & Leisure, Bettystown, Co Meath (and also their branch in Drogheda, Co Louth) - 20 min treatment on injuries or 20 minute massage for €5 / plus offer of €5 entry for gym and swimming pool in both centres
deals at Callaghan Quality Butchers, Bettystown, Co Meath
1.5 hour archery lesson at Boyne Valley Activities in Trim for €5pp/ email info@boynevalleyactivities.ie for more info
Keanesfield Kennels, Ratoath in Co Meath offering doggy daycare for €5 - a fun day out for your pet with playing, chasing, catching ball, walks + treats. Places limited, booking essential / /www.keanesfieldkennels.com/
Aqua Beauty Studio, Bettystown, Co Meath - €5 deals on a range of eyebrow, waxing, nail and eyelash care and mini body toning treatments / 041 988 7451
Active Vet Care in Meath (clinics in Ashbourne, Dunboyne, Dunshaughlin and also in Clonsilla and Cabra in Dublin) - pet microchipping for €5 and €5 deals on selected pet food / www.activevetcare.ie/
Terry Gorry & Co Solicitors in Enfield, Co Meath - the first 3 people to email terry@businessandlegal.ie will get their will drawn up for €5 / http://businessandlegal.ie/
Morgan's Fine Fish (stands in Navan, Kells, Dundalk and factory shop in Omeath) - €5 deals on fillets of mackrel, whiting and smoked coley / www.morgansfinefish.com
€5 deals on selected products all day at Moate Sports in Co Westmeath
Paws Pet Centre, Irishtown, Athlone, Co Westmeath - whole range of €5 deals on pet food and accessories / www.pawspetshop.net
Bloomfield House Hotel, Mullingar Co Westmeath - all carvery lunches €5, 12.30pm-2.30pm / www.bloomfieldhousehotel.ie
on Fiver Friday buy tickets for 'The Adventures of Sinbad' panto at the Mullingar Arts Centre for €5pp / http://mullingarartscentre.com
Sheila's Alterations, Mount Street, Mullingar, Co Westmeath- €5 for trouser hem alterations all day today
Celtic Canoes & Archery in Co Louth - buy voucher for an archery session for €5 today and it can be used any time up until May 2014 / www.celticcanoes.ie
Eurospar in Bredin Street, Drogheda, Co Louth offering a selection of €5 specials on Christmas, household and food items
Jasper Jewellery in Drogheda, Co Louth have 250 pairs of Swarovski and 14-carat gold-plated earrings selling at €5 each / http://jasperjewellery.com/
O'Dowd's Veterinary Hospital in Ardee, Co Louth have €5 deals on 2kg bags of Hill's puppy, dog & kitten food
Fisherman's Catch fish shop, Clogherhead, Co Louth - range of offers on Fiver Friday (and specials available 7 days a week) / www.fishermanscatch.ie
€5 meal deals at Super Mario's takeaway in Tullyallen, Co Louth
lots of businesses in Birr, Co Offaly offering special deals - Jerros Boutique, Jazz Boutique, Hip Hop Children's Wear, Dwyer's Butchers, Birr Carpets, Horse & Dog Outfitters, Brendan Mannion Electrical, Emma's Cafe, Dooley's Hotel, Whelan's Newsagents, Horan's Supermarket, Sue Ryder Shop, Birr Castle, Foxe's Pharmacy, Pharmacy Plus, Townsend B&B, Fayles Hardware & Furniture
Bramble Photography, Enniscorthy, Co Wexford - first 10 bookings to email bramblephotography@eircom.net on Fiver Friday get a portrait sitting - one person, family, pet etc - for €5 (RRP €75) / www.bramblephoto.ie/
get a traditional bacon & cabbage dinner for €5 at Café Lilly's in Rosslare Harbour, Co Wexford (offer runs all day)
Sissi's Beauty Salon, South Main Street, Wexford town - a range of €5 offers today / www.sissibeautysalon.com
Wexford Golf Club - a full round of golf any Monday in January 2014 for €5. Get the voucher at the pro shop, bar or online at www.wexfordgolfclub.ie
MUNSTER
in Limerick a range of great €5 specials around the city - Tai Chi/Qi Gung classes at The Milk Market, The Euro Store, Corbally Beauty Salon, Lawless Flowers, Angel Times, George Boutique, Gleeson Sport, Curragower Bar, Widdess Pharmacy, Edinburgh Woollen Mills, Healthwise Dental Clinic, Wacky Shoes, Dolan's, Ryan's Jewellers, Southill Area Centre Café, Flannery's, Vision 2 Opticians, Our Lady of Lourdes Café, Jack Fitzgerald Electrical, Fine Wines, Fusion Hair Design, Crafty Fox Bar, Limetree Theatre, King John's Castle, Trade Electric, Gleesons Sports Scene, O'Neill's Mace, Hogan's Pharmacy, Seabreeze fish shop, Seamus Butler butchers, Sue Ryder charity shop, Ryan's Locksmith, Michael O'Loughlin butchers, Café Vero opposite the train station, The Danes Bakery & Coffee Shop, Centra Supermarket Upper William Street, Guiney's in William Street, panto tickets at UCH Limerick, Moody Cow Shakes in Arthur's Quay, O'Shaughnessy's Flowers in Henry Street, Evolution Gym in the South Court Hotel, Limerick Walking Tours, Glen Tavern in Glentworth Street, O'Mahony's Bookshop
Limerick Self Storage - storage room for €5 a week until Jan 2014 / www.limerickselfstorage.com
Kilmartin Educational Services, Limerick - 5 evenings of study for secondary school students for €5 / www.kes.ie
Cappamore Pharmacy, Co Limerick - all hair colour reduced to €5
City Vet, Lord Edward Street, Limerick - pet health checks for €5 and deals on Vet Essentials puppy and kitten food. Bookings to 061 419760
Mulcair Veterinary Clinic, Cappamore, Co Limerick (and Newport, Co Tipperary) - €5 specials on cat and dog food
Carrick on Suir Golf Club, Co Tipperary - a round of golf for €5 today / Tel 051 647239
at John Street Dental, Limerick get dentures repaired for €5 (RRP €30)
Treaty Veterinary Clinic, Thomondgate, Limerick - deals on Hill's pet food and microchipping / www.treatyveterinaryclinic.com
Mid West Tyres in Limerick, Raheen, Shannon and Parkway - amazing FREE offer for a winter safety check and car punctures / www.midwesttyres.ie
John Duggan Butchers, Tipperary town - range of €5 offers
Chic Boutique in Charleville, Cork - special offer on pairs of OMSA tights
Decorative Glass Company in Douglas, Cork - broken car wing mirrors replaced for €5, offer valid from Saturday 7 Dec and every day up until 21 Dec / www.dgcork.com
Animal Care Hospital, Douglas, Cork - a pet dental check & nail clip for €5, plus deals on pet food / www.animalcarehospital.ie
at Hurley's Fuel Centre, the Pike, Clonakilty, Cork there are lots of €5 offers on all kinds of fuel - logs, kindling, firelighters, coal briquettes / https://www.facebook.com/pages/Hurleys-Fuel-Centre-Convenience-Shop/165807943583448
Fir Barber Shop in Clonakilty, Cork - children's hair cuts €5 all day
Doneraile Court Tea Rooms, Doneraile, Cork - have a bacon-and-cabbage lunch special, €5 from 12pm-3pm / http://doneraile.ie/
Blade Savers, an Irish-owned company in Cork are offering their product (to re-sharpen razor blades) for €5 while Liveline is on-air (RRP €15) / www.thebladesaver.com
Liam Lynch Jewellers, Patrick Street, Cork - €5 deals on watch servicing and yellow gold ring polishing
a €5 meal-deal special the Kilkenny Shop & Café at the Shanagarry Design Centre, east Cork / www.kilkennyshop.com/
Paul Sanders, the Butcher Boy from Youghal, Co Cork has a range of great offers on meat products all day
Aura Leisure Centre in Youghal, Cork - adult swimming session for €5 / www.auraleisure.ie
Casey's of Baltimore, Cork-special offer on their homemade jams / www.caseysofbaltimore.com/
Cork Weddings & Events in Carrigtwohill - a range of offers on wedding-related itemswww.facebook.com/corkweddingsandevents
€5 meal deal at Griffin's Garden Centre, Homeware & Restaurant in Dripsey, Co Cork / www.griffinsgardencentre.ie
Box of Frogs coffee shop in Bantry, Cork - a €5 lunch deal today
Philip J Dix Jewellers, Bantry, Cork - sterling silver rings for €5 (RRP €19.95)
Horgan's Fresh Fish, Mallow, Cork - special deal on seabass fillets
Jemma Jim's children's shop, Kanturk, Cork - from their Christmas gift corner mix & match any two items for €5, wrapped & tagged
JSK eco cleaning solutions supplier, Tramore Road, Cork - 2 high quality glass cleaning cloths for €5 (RRP €14) / order by phone 021 431 8545, email info@jskcleaning.ie or by calling to shop
Ocon Chemicals, Pouladuff in Cork - 2 sachets of 'Flush & Go' powder for €5 (for use in septic tanks, cess pits, grease traps etc) http://oconchemicals.ie/solutech-biosystems.html
you'll find offers in many of the businesses in Millstreet, Co Cork, including Nibbles Deli, Herlihy's Centra, Mulcahy's Pharmacy, the Wallis Arms Hotel
Fresh Valeting in Clonmel and Waterford - quick wash & hoover of your car for €5 / www.freshvaleting.ie / bookings 086-608 3389
Dungarvan Golf Club, Co Waterford - green fees for €5 all day / www.dungarvangolfclub.com
Pitch and Foot, Tramore Road in Waterford (a new sport called footgolf where you play a 10-hole golf course with a football) -€5pp to pay the course all day Fiver Friday / www.pitchandfoot.com
Quish's Supervalu in Tramore, Co Waterford - tins of biscuits for €5
Mr Duffy's Sweet Shop, Tralee, Co Kerry - €5 deals on handmade Irish chocolate bars and pick-and-mix
Tim's Driving School in Tipperary - introductory lessons to new pupils for €5 / http://timsdrivingschool.com/
Con Cleary Auto Repairs, Limerick Road in Nenagh - get car lights focused for €5 (RRP €20)
Southview Veterinary Hospital in Clonmel, Co Tipperary have deals on a selection of Hill's pet food
Arra Veterinary Clinic, O'Brien Street in Tipperary town have a range of deals on bags of Hill's cat and dog food
Rodeen Meat & Poultry, Borrisokane, Co Tipperary will have five 12lb free range turkeys available for €5 (RRP €50) / log onto their website www.rodeenmeatandpoultry.com, put in the voucher code joe5 and have your turkey delivered to your door on 22 December
Kilshanny House, the Burren in Clare - free entry to their 'Fashion & Fun' evening with advice from local image consultant, special €5 deals from local fashion houses in the pop-up shop on-site and €5 meal-deal offer in the Kilshanny House restaurant / www.kilshannyhouse.ie
Fancy That, Ennistymon, Co Clare - 3 Yankee Candle votives in Christmas snowflake bag for €5
the pop-up local craft shop Project Pop Up on Carmody Street, Ennis, Co Clare - €5 deals on handmade soaps and slate hot plates
main course chicken lunch for €5 at the Literary Café in the Kerry Writers Museum / www.kerrywritersmuseum.com
CONNAUGHT
at Ballinasloe Tyre Centre in Galway mushroom puncture repairs and pre-NCT light focus - both €5
Sullivan's Supermarket, Clifden in Galway have a range of offers
The Spa at the Pillo Hotel, Headford in Galway offering special €5 deals on eye and nail treatments / www.pillohotelgalway.com
Athenry Pet Clinic, Galway - €5 special on bags of Hills puppy & kitten food (RRP €19), while stocks last / www.facebook.com/pages/Athenry-Pet-Clinic/115986581774565
Kelly's Veterinary Clinic, Athenry, Galway - pet checks for €5 and deals on a selection of Hill's pet food
Eire Foto in Athenry, Galway - an 11 x 8 pet portrait for €5, Friday 6 and Saturday 7 December between 12pm & 3pm / Email post@eirefoto.com for bookings / www.eirefoto.com
Moy Vet Services, Kinvara, Galway have €5 specials on Sharpe's and Hill's puppy & cat food
Bloomin' Flower & Gift Shop, The Square, Dunmore, Co Galway - Christmas hyacinths in Christmas pot for €5
Cahill's Homevalue Hardware, Gort, Co Galway - €5 deals on pine doors, crockery and paints
Railway Veterinary Clinic, Loughrea in Galway - for €5 get your pet microchipped and deals on Hill's pet food while stocks last / 091 841935 / email railvet@eircom.net
Coppinger's Furniture, Moylough, Galway will have a stock of 30 wool rugs at €5 each (RRP €60) / www.coppingersfurniture.com
Ark Veterinary Clinic, St Mary's Road, Galway city - deals on Hill's pet food
Brendan Loughnane Master Butcher, Headford Road, Galway - a variety of €5 specials
Galway Golf Range - a 15 minute one-to-one consultation with the PGA instructor Bill Daly, who'll be holding a clinic at the golf club 11am-7pm today / https://www.facebook.com/pages/Galway-Golf-Range/316394978457973?ref=hl
Carmel Gunning, teacher of traditional singing & music, Sligo - the first 6 bookings on Fiver Friday get a group workshop for €5 each / email carmelgunn09@gmail.com
the first 3 emailers to contact Pat, the woodturner at Bowls n' Things in Keash, Co Sligo will get a voucher worth €50 for €5 / bowlsnthings@hotmail.com / www.facebook.com/Bowlsnthings
Sligo Wood Flooring, Lynn's Dock in Sligo - €5 per square yard for laminate flooring + foam underlay (while stocks last)
McGreevey's Toys Direct toy store, Westport have a large range of toys on special - lego, tree houses, farm sets, baby blankets, Ferrari racers...and lots more, all at €5
Portwest outdoor clothing store, Westport, Co Mayo - €5 deals on selected hermal wear / www.portwest.ie
at Carney's in Ballinrobe, Mayo get a lunch special from 12pm-3pm
a carvery lunch for €5 at the McWilliam Park Hotel in Mayo where you can also avail of their ongoing Fantastic Friday deal of dbb for 2 people for €99 / www.mcwilliampark.ie/
'Growing Locally', the community fruit & veg market in Claremorris, Mayo - get a Winter Stew pack (containing a range of vegetables) for €5 (RRP €8). Call into the shop on the Ballinrobe Road or pre-order on 087 376 8802
Michael at the Golden Rule Driving School, Claremorris, Mayo is giving all driving lessons for €5 today (RRP €35) / 094 937 1922
at the Funster Playcentre in Castlebar, Co Mayo admission will be €5 per child for 90 minutes play, 10am-6pm on Fiver Friday / www.funster.ie
Mary H's Fashions, Killala, Co Mayo - the first 10 pairs of ladies trousers and ladies B-Young jeans purchased today are €5 each. Also a selection of costume jewellery for €5
Strokestown Park, Co Roscommon - for €5 get entry to national famine museum, walled garden and a guided tour of Strokestown Park House at 2.30pm / www.strokestownpark.ie
Taylor's Interiors, Boyle, Co Roscommon - selection of gifts and decorations for Christmas at €5/www.facebook.com/taylorsinteriors
Sheerin Photography, Kiltyclogher, Co Leitrim - a 10 x 8 family portrait for €5 to anybody booking at www.sheerinphotography.ie
Brennan Butcher Supplies, Cloone, Co Leitrim (suppliers to the food processing industry) - a range of butchering and catering accessories on offer for €5 / www.brennan-group.com
ULSTER
in Cavan the Bailieborough Veterinary Clinic dental & weight check-up and special offers on select Vetessentials products
Cavan Pet Hospital, Ballinagh Road, Cavan - €5 deals on Hill's cat and puppy food (RRP up to €19)
Callan's Pharmacy, Kingscourt, Co Cavan - offers on make-up, ear piercing and photography
CC's Nail & Beauty Salon, Main Street, Cavan - €5 deals on facial waxing and nail file & polish
in Clones - deals on selected snow/frost products, socks, cushions and wellingtons at Lipton's Department Store / http://youtu.be/Xdm_oAWgp6Y
any business in Armagh that emails a booking, starting on Fiver Friday and continuing until Friday 13 December, to des@armaghcounty.net can get their online profile designed and built using unique software for €5 (worth €940) / www.armaghcounty.net
the Millbridge Bar in Kilmacrennan, Letterkenny, Co Donegal have a range of €5 meal-deals on offer today
Pixcam, Railway Road, Buncrana, Co Donegal will print your photo on a mug for €5 / www.pixcam.ie
selected meal deals at Taylors Pantry on Main Street, Buncrana
McClafferty's Eurospar in Gortahork have €5 deals on heating and household products (Friday offers continue throughout the year)
the Fitness Habit gym in Monaghan town will give a 1-hour personal training session for €5 (RRP €35). Offer open to memebers or non-members / www.thefitnesshabit.com
the farmshop at Silver Hill Foods in Emyvale, Co Monaghan have a range of deals on duck products / http://silverhillfarm.ie/
NATIONWIDE
GROW in Ireland (the community mental health organisation) have a number of their books on mental health & recovery on special offer. If you can't make it into their offices at various locations around the country you can also apply by post / details at http://grow.ie/blog/festive-fiver-friday/
at all 8 Michael Guiney branches (Dublin, Cork, Limerick, Tralee, Waterford, Castlebar and Clonmel) - €5 deals on pillows, faux silk curtains and rugs
for €5 at any Mr Windscreen branch - supply & fit wiper blades, top-up washer bottles and NCT windscreen inspection / 1850 512345 / email: info@mrwindscreen.ie
Dan Arnold Relationship Training - any primary school across the state that books a talk on ways to deal with bullying will pay just €5 + expenses (RRP €195). Offer applies to curent school year / Email raceman@eircom.net / www.facebook.com/DARTDanArnoldRelationshipTraining
Coral Leisure (centres in Arklow, Wicklow, Cobh, Monaghan and Askeaton) - €5 deals on entry to their gyms and swimming pools / www.coralleisure.ie
ONLINE
"Foxes & Chickens" board game from Hencro Games - €5 per game to the first 5 orders emailed to pat@hencrogames.com on Fiver Friday / www.hencrogames.com (postage not included)
you can get a great deal on the latest album and some classics from Irish band PictureHouse / www.picturehouse.ie
Dog Food Direct have reduced ALLtheir dog accessories priced at €20+under down to €5 - and they will match any €5 donation to any dog rescue centre nationwide / www.dogfooddirect.ie/
Toby Wagons, the company selling traditional American-style children's wagon have a hot sheet sledge incl delivery for €5 / www.tobywagons.com
Luggage Hunters, an Irish-developed coded tagging system to help people get their lost luggage back once it has been found - get a double travel pack of coded labels and tags for €5 / www.luggagehunters.com
CommunionDress4Less (for new and once-worn Communion dresses at low prices) - headpieces and tiaras for €5 (while stocks last) / http://communiondress4less.vpweb.ie/default.html
offers on handbags and clutch bags from Beauty Couture, the 100% Irish online site for bags, jewellery and shoes. Enter the "Fiver Friday" code at the checkout stage / www.beautycouture.ie/boutique/red_hot_deals
"Oh My Dog! The Book", Volumes 1 & 2 on sale for €5 each. Book features photos of their pets sent in by visitors to the Oh My Dog website / www.ohmydog.ie
Project Maths Solutions books (Higher & Ordinary level Junior and Leaving Cert) for €5 (RRP €25). Avail from 1.45pm Fiver Friday while stocks last / you can order online at http://www.leavingcertsolutions.com/mall/leavingcertsolutions/products/topsellers-1.stm
The Trilogy Band, a very popular wedding & function band, will play 2 charity gigs in 2014 for €5 each. ONLY applies to an event within 30 miles of Dublin. Email trilogy@live.ie 9am-12pm on the morning of Fiver Friday for your charity to be included in the draw. The two winners will be announced on The Trilogy Band's Facebook page by 2pm on Fiver Friday / www.trilogyband.ie
any cushion for €5 at Trolleychum (a cushion to cover the inside of a baby seat on a shopping trolley) / www.trolleychum.com
SiobhanDempsey.com will put your business online (using Word Press) for just €5 today (RRP €400) - they'll create your home page, a blog and contact page / email info@siobhandempsey.com for more information / www.irelandwww.com
5 copies of Limerick's top-selling GAA sports magazine 'Green & White Magazine' for €5 to the first 50 orders emailed today to info@thegreenandwhite.com / www.thegreenandwhite.com
The Xtra Mile Wedding Band - the first couple to contact the band from 1.45pm Fiver Friday will be able to book the band to play their wedding for €5 (RRP €2,250) / www.thextramileweddingband.ie
Deadly Christmas Jumpers - 2-for-€5 special offers on mugs and woolly hats / www.deadlychristmasjumpers.com/
Philip Murray Photography - a home-shoot gift card for €5 (RRP €120) to the first 5 people in the Dublin area to email on Friday info@philipmurrayphotography.com /www.philipmurrayphotography.com
Ho Ho Ho, for all your Christmas gift boxes and stocking-fillers -children's Christmas goodie bags at €5 each (RRP €19.99) to the first three people to email naomi@hohoho.ie on Fiver Friday / www.hohoho.ie
anybody who books a home security appraisal (on doors, windows, patio doors) with Secure Your Home on Fiver Friday will get the service for €5 (RRP €55); appraisal can take place up until end Jan 2014 / http://www.secureyourhome.ie/
Alpha Print will supply 250 business cards for €5 + postage / order online through www.alphaprint.ie
the Irish farmers calendar 2014 for €5 at www.totallyirishgifts.com
Toy Stores, a new online Irish business, have One Direction snap cap headphones for €5 (RRP €35) / www.toystores.ie/
'First Christmas' art activity pack for €5 from Tina Mation at www.artintheclass.com
Clever Courses provides online revision courses for Leaving Cert students - an alternative to grinds. On Fiver Friday all courses are €5 / www.clevercourses.ie
Pay just €5 a month for a year's worth of advertising on the online newspaper Monaghan Life (RRP €275, terms apply). Email sales@monaghanlife.ie to book / www.monaghanlife.ie
Click and Go, the online travel company have 100 €50 holiday vouchers available for €5, redeemable on all over-50's holidays for travel January - March 2014. Call 01 637 1699 and quote 'Joe Duffy/Fiver Friday' to claim your voucher / www.clickandgo.com