Listen
Blighted Nation: Episode Three - Famine Emigration
More one million people died during the Great Famine and more than double that number emigrated within the next decade. A greater number emigrated during this period than all those who had left in the previous two and a half centuries.
Emigration was a fact of Irish life before 1845 but the famine accelerated the numbers who left.
Between 1845 and 1855, almost 1.5 million people left for the United States; 340,000 sailed for Canada (many were through migrants – eventual destination the US), around 300,000 settled in the cities of Great Britain, and 70,000 went to Australia.
Fewer than one in three of those born in Ireland in the early 1830s died at home of old age.
This programme examines people's desperation to leave. It also explores what parts of Ireland saw the most emigration, who left, where they went, how they got there and how they were received.
Other areas covered include a portrait of a coffin ship, assisted emigration, quarantine stations, where the poorest ended up, attitudes to emigrants in their new countries and how emigrants helped to shape their new countries.
We also feature a micro-history of the 5,000 who emigrated from the Strokestown Estate in Co. Roscommon.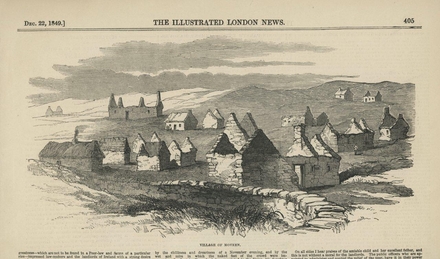 (Image courtesy of Ireland's Great Hunger Museum)
Studio Guests:
Marita Foster, University College Cork.
Dr. Gerard Moran, director of the MA programme in Irish History at NUI Maynooth.
Ciaran Reilly (Historian) who has has been researching the archive of Strokestown Estate in Co. Roscommon which holds the largest collection of famine documents.
Contributors include:
Lynn Rogers (Friends of Abandoned Cemeteries, Staten Island)
Former President Mary Robinson
Bob Wagner (famine descendant)
Mick Moloney, musicologist, NYU
Peter Quinn (New York author)
William Henry (author Coffin Ship).
Blighted Nation podcasts are extended versions of the original broadcasts and are available here