Arts Tonight Monday 30 September 2013
The most recent series of Arts Tonight has now concluded. Podcasts of all the programmes in this recent series, as well as previously broadcast Arts Tonight programmes, are available here.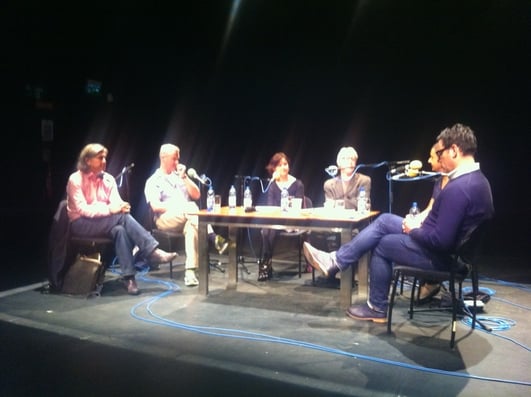 Arts Tonight: Theatres of Politics: 30 September 2013
Tonight, in the first of two panel discussions from the Dublin Theatre Festival, Vincent Woods and panel discuss 'Theatres of Politics': is all theatre political and if not, should it be? What have been the plays that have most engaged with politics and civic issues in recent years? Guests are Fiach MacConghail, director of the Abbey Theatre, and Senator; Joe Lawlor of Desperate Optimists whose play Tom and Vera has been showing at the current festival; Marcus Youssef, artistic director of New World Theatre, which presents Winners and Losers at the festival; critic Helen Meany, and Dublin Theatre Festival director Willie White.
Our next panel, 'The Artists Are Not At Home', will be recorded this Friday 4 October at 2pm at the Project Arts Centre. Guests Annie Ryan, artistic director of Corn Exchange which presents Eugene O'Neill's Desire Under the Elms at the Festival, Camille O'Sullivan, who performs with pianist and musical collaborator Feargal Murray in the Royal Shakespeare Company's production of The Rape of Lucrece which opens at the Gate theatre next week; critic Helen Meany and former Culture Ireland director and incoming director of the Kilkenny Arts Festival, Eugene Downes, discuss whether a creative distance from home helps to make good theatre. Admission is free but ticketed: see https://www.dublintheatrefestival.com/Online/Panel_Discussions
Arts Tonight 30 September 2013: Theatres of Politics
Panel discussion from the Dublin Theatre Festival with Willie White, Marcus Youssef, Helen Meany, Joe Lawlor and Fiach MacConghail