Listen
Arts Tonight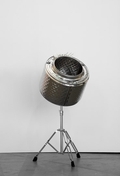 On Monday 22 April, we visit False Optimism, the recently opened exhibition at the Crawford Gallery in Cork, co-curated by the Crawford Gallery and the Autocenter Gallery in Berlin. Voices
on the programme: Peter Murray, director of the Crawford
Gallery, Maik Schierloh and Joep van Liefland of the
Autocenter Gallery, who curated the show; artists Una Quigley, Kitty Kraus, and more. We also hear from Alan Foley on 21 years of Cork City Ballet, of which he is artistic director, and how it is managing to continue its work through funding cutbacks.