Listen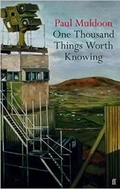 One Thousand Things Worth Knowing is a new collection of poetry from Paul Muldoon.
Paul is a Pulitzer Prize winning poet and a Professor of Humanities at Princeton University, and this collection is his first since the passing of his teacher and mentor Seamus Heaney.
He joins Seán now on the line from New York.