Listen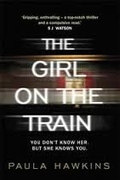 The Girl on the Train is the debut novel from Paula Hawkins. Described as a modern "Rear Window", it centres on a woman fantasising about the people living in the homes that she passes on her daily commute.
Declan Burke has been reading it for us and he also watched the first episode of Wolf Hall which aired on BBC2 last night.
The Girl on the Train by Paula Hawkins is published by Doubleday.