Listen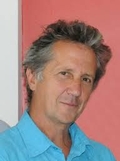 The writer Blake Morrison published And When Did You Last See Your Father in 1993. That memoir turned Blake into a literary sensation and also helped to change the way we viewed the genre. From mere autobiography they were suddenly works of serious literary merit with added psychological insights, sharing the struggle of life and a process of understanding.
On Sunday Author Blake Morrison will be talking at the Mountains to Sea book festival in Dun Laoghaire and he joins Evelyn O Rourke from London.
Blake's own favourite memoirs include This Boy's Life by Tobias Wolff; Seamus Dean's Reading in The Dark from 1996; Lora Sage's memoir Bad Blood; The Scent of Dried Roses by Tim Lott; Dave Eggar's A Heartbreaking Work of Staggering Genius; and Seamus Heaney's Stepping Stones.