Day 9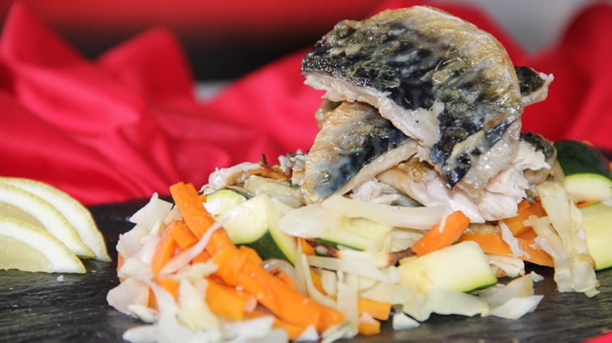 Fried mackerel with baked vegetables in a goat's cheese sauce
Ingredients:
400g Irish Mackerel Fillets
200g cabbage shredded
200g onion sliced
240g courgettes, in medium sized chunks
400g carrots, thinly sliced
150g soft medium fat goats cheese
50ml low fat milk
2tbsp soy sauce
Freshly ground black pepper
1tbsp chopped parsley
3 cloves crushed garlic

Method:

1. Pour the goats cheese, pepper, parsley, garlic, soy sauce and milk into a bowl and mix well.

2. Place vegetables in an oiled oven dish

3. Dot the sauce around the vegetables.

4. Drizzle the vegetables with a little water and place in the oven at 200șC for 40 minutes

5. A few minutes before the vegetables are ready spray oil in a non stick pan on a medium heat.

6. Place mackerel fillets skin side down on the pan and cook for 4
minutes.

7. Turn and cook for 4 minutes on other side.

8. Serve with the vegetables.
The information on this site does not take into account the specific circumstances of any viewers, readers or listeners, and therefore you are advised to consult your own doctor before under going any weight loss programme featured in Operation Transformation. The opinion of the panel does not constitute and should not be regarded as a substitute for doctors advice.