Day 8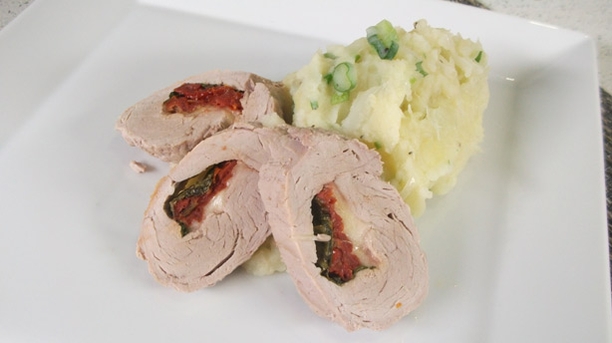 Stuffed pork fillet with colcannon
Ingredients:
450g Irish pork steak (fillet)
600g potatoes, peeled and roughly chopped
600g white cabbage, very thinly shredded
50g sun-dried tomatoes
75g low fat mozzarella cheese, thinly sliced
4 spring onions finely chopped
Fresh basil leaves
100ml low fat milk
1tbsp swiss vegetable bouillon or vegetable stock cube
Salt and pepper
wooden cocktail sticks

Method:
1. With a sharp knife cut the pork steak half way through along
its length. Cover with some cling film and flatten the fillet.
2. Place basil leaves, sun-dried tomatoes, mozzarella in the middle and fold close with the help of cocktail sticks.
3. Spray some oil on a piece of tinfoil, wrap the pork carefully and close the end to create a parcel.
4. Place on oven tray and cook in 200C degree oven for 30mins.
5. For the colcannon, place the potatoes in a saucepan and
cover with water. Bring to the boil.
6. Add the bouillon and shredded cabbage and simmer for 15-
20 minutes until soft.
7. Drain the cooked vegetables and place in a bowl. Add milk, salt and pepper and spring onions and mash well.
8. Serve with 3 slices of pork fillet per portion.

The information on this site does not take into account the specific circumstances of any viewers, readers or listeners, and therefore you are advised to consult your own doctor before under going any weight loss programme featured in Operation Transformation. The opinion of the panel does not constitute and should not be regarded as a substitute for doctors advice.