Day 7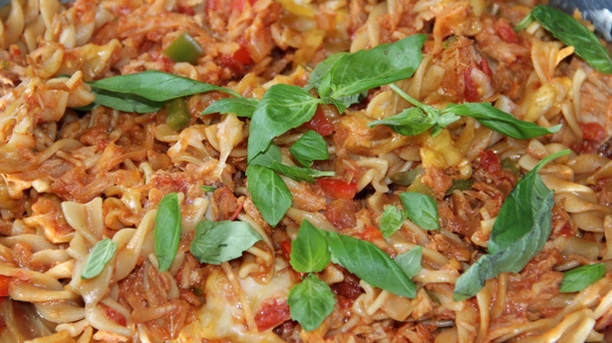 Tuna pasta bake
Ingredients:
2 x 185g cans tuna chunks in spring water, drained and flaked
400g celeriac, peeled and grated
300g wholemeal pasta
2 x 400g cans whole peeled tomatoes
1 medium onion, diced
1 Red & 1 green pepper, chopped
100ml low fat milk
2 eggs
¼ fresh chili, finely chopped
2tbsp tomato puree
200ml fish or vegetable stock
2tbsp soy sauce
1 tsp olive oil
100g low fat mozzarella

Method:
1. Cook the pasta according to pack instructions.
2. Heat the oil in a large saucepan, add the onions and peppers and fry for about 5 mins until starting to caramelise.
3. Add the tomatoes, celeriac, and fish stock and stir.
4. Add the chopped chili, tomato puree and soy sauce. Cover and cook for 5 minutes
5. Add the tuna and stir to heat through.
6. Add the cooked pasta to the tomato & tuna sauce.
7. Mix the eggs with the milk
8. Spray a large oven proof dish with oil and tip the tuna mix into it.
9. Pour mixed eggs over the tuna dish and sprinkle with mozzarella.
10. Cook in an oven at 200șC for 20-30mins.
11. And serve
The information on this site does not take into account the specific circumstances of any viewers, readers or listeners, and therefore you are advised to consult your own doctor before under going any weight loss programme featured in Operation Transformation. The opinion of the panel does not constitute and should not be regarded as a substitute for doctors advice.