Day 6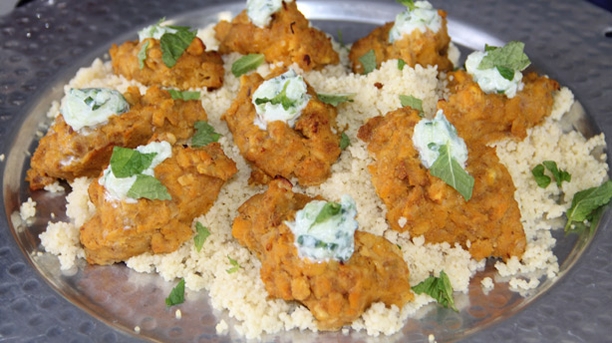 Butternut squash & chickpea burgers, tzatziki and couscous
Ingredients:
For the burgers:
1000g butternut squash, finely diced
200g couscous
400g can chickpeas drained and rinsed
3 high-fibre rye crispbread
1 egg
1000ml vegetable stock
1tsp-5ml Chinese five spice
2tbsp (30ml) soy sauce
For the tzatziki:
350g/ 1 cucumber grated
200ml natural yoghurt
10 mint leaves, chopped
3 garlic cloves crushed
Pinch of salt
For the mango dip:
200ml low fat natural yoghurt
1 tbsp mango chutney

Method:
1. In a large saucepan bring the vegetable stock to the boil. Add the squash cubes and simmer for approximately 10 minutes, or until soft.
2. While the butternut is cooking, put the rye crispbreads into a freezer bag and crush finely.
3. Drain the butternut squash and place in a bowl with the chickpeas, five spice, soy sauce and crispbread crumbs. Mash together well.
4. Allow to cool a little and add the egg. Mash until smooth.
5. With a help of a tablespoon make small hamburger patties on a baking tray lined with baking paper.
6. Place in an oven at 200șC and bake for 12-15 minutes depending on your oven.
7. To make the tzatziki, in a bowl place the yogurt, cucumber, mint, garlic and salt and mix well. Set aside until needed.
8. Prepare the couscous according to packet instructions.
9. Remove the burgers from the oven and serve with the couscous and tzatziki.
The information on this site does not take into account the specific circumstances of any viewers, readers or listeners, and therefore you are advised to consult your own doctor before under going any weight loss programme featured in Operation Transformation. The opinion of the panel does not constitute and should not be regarded as a substitute for doctors advice.