Day 5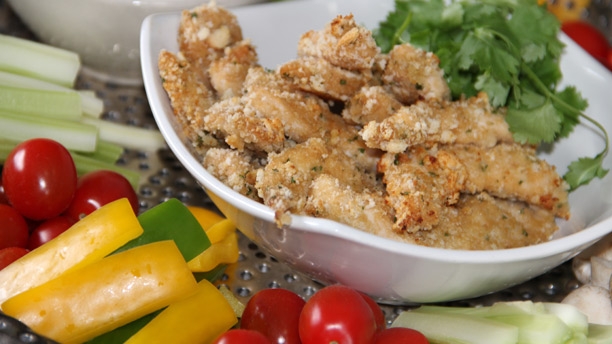 Crispy chicken strips with vegetable crudities and mango chutney dip
Ingredients:
For the chicken strips:
600g chicken breasts cut into strips
1/2 packet of fresh breadcrumbs
2 tbsp olive oil
2 tbsp soy sauce
1 tbsp fresh coriander & parsley, finely chopped
For the crudities:
200g baby plum tomatoes, whole
250g button mushrooms, whole
150g celery cut into strips
1 green & 1 yellow pepper, sliced thickly
300g apples, quartered
For the mango dip:
200ml low fat natural yoghurt
1 tbsp mango chutney

Method:
1. Place the chicken in a bowl along with the soy sauce, olive oil and chopped herbs. Mix well to coat the chicken evenly. Cover and place in the fridge overnight to marinade.
2. Preheat oven to 200șC.
3. Remove the marinated chicken from the fridge.
4. Add breadcrumbs and mix well until the chicken is evenly coated.
5. Arrange the chicken on an oven tray lined with baking parchment.
6. Place in your preheated oven and roast for 15 minutes, or until chicken is fully cooked, depending on how thickly you have cut the strips.
7. To make the dip, add the mango chutney to the natural yoghurt and stir well.
8. Serve.
The information on this site does not take into account the specific circumstances of any viewers, readers or listeners, and therefore you are advised to consult your own doctor before under going any weight loss programme featured in Operation Transformation. The opinion of the panel does not constitute and should not be regarded as a substitute for doctors advice.