Day 45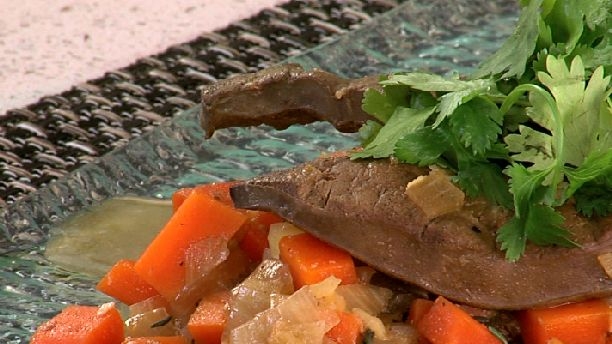 Fried liver with carrot & onion ratatouille
Serves 4 - (Each serving contains approx 450-500 Kcal)
Ingredients
600g Lamb's liver
500g onions cut in big chunks
500g carrots cut in medium size pieces
300ml beef stock
200g low fat crème fraiche
8 cloves (25 g) garlic crushed
2tbsp soy sauce
2tbsp olive oil
freshly ground blackpepper
Method:
1. Put half the olive oil into a pre-heated non-stick pan. Add the
carrots, cover and fry for a few minutes on a medium heat.
2. Add the rest of the olive oil, the liver, soy sauce and pepper and fry for 2 minutes or until liver browns.
3. Add the onions, garlic and beef stock and stir. Cover and
simmer for 5 minutes.
4. Remove the lid and cook for 5 minutes to reduce the liquid.
5. Add the crème fraiche and stir through.
6. Serve.
The information on this site does not take into account the specific circumstances of any viewers, readers or listeners, and therefore you are advised to consult your own doctor before under going any weight loss programme featured in Operation Transformation. The opinion of the panel does not constitute and should not be regarded as a substitute for doctors advice.