Day 44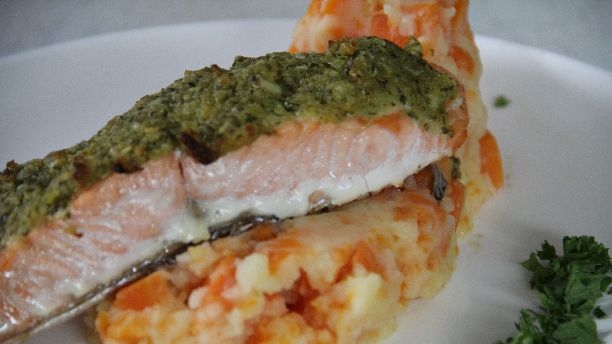 Lemon crusted salmon with carrot and potato mash
Serves 4 - (Each serving contains approx 450-500 Kcal)
Ingredients
4 salmon fillets (or trout if you prefer)
600g potatoes, peeled and diced
600g carrots, diced
50g breadcrumbs
50 ml low fat milk
1 tbsp soft butter
1 small bunch parsley, chopped
zest and juice of 1 lemon
25g pine nuts
1 tsp olive oil
Method:
1. To a pot of boiling water add the carrots and potatoes. Cook until soft.

2. Drain the vegetables, add the milk and mash well. Keep warm till needed.

3. In a jug place the breadcrumbs, parsley, pine nuts, lemon zest, butter and lemon juice. Blitz until blended.

4. Lightly oil a baking tray. Spread the lemon mixture on the fleshy side of the salmon fillets and lay them, skin side down, on the tray.

5. Place the fish in the top of the oven at 220șC for about 12 minutes or until the topping forms a crust.

6. Serve with the mash.
The information on this site does not take into account the specific circumstances of any viewers, readers or listeners, and therefore you are advised to consult your own doctor before under going any weight loss programme featured in Operation Transformation. The opinion of the panel does not constitute and should not be regarded as a substitute for doctors advice.