Day 43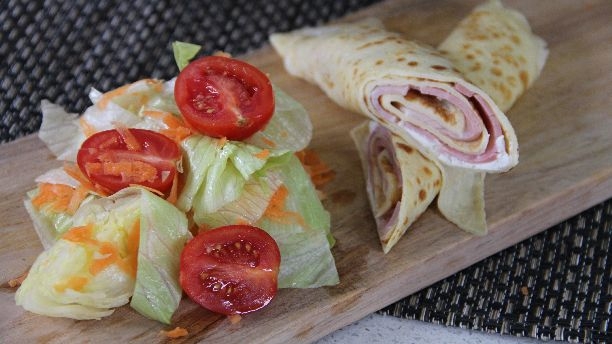 Ham & cream cheese filled crepes with grated carrot, tomato & lettuce salad
Serves 4 - (Each serving contains approx 450-500 Kcal)
Ingredients
For the crepes:
4 eggs
400ml milk
100g all-purpose flour, sieved
pinch of salt

For the filling:
8 slices cooked ham
240g Low fat cream cheese.
Spray oil

For the salad:
1 head of lettuce
4 carrots (approx, 100g each), grated
4 tomatoes, chopped
Juice of 1 lemon
Method:
1. Break the 4 eggs in a bowl and add the milk. Whisk together and then add the salt and sieve in the flour whisking at the same time.

2. Let stand for 15-30 minutes.

3. Prepare the salad. Place the lettuce in a bowl. Add the tomatoes and the carrots. Drizzle with lemon juice, toss and set aside.

4. Heat a small non-stick pan on a medium hat and spray with a little oil.

5. Pour enough batter in to just cover the bottom of the pan.

6. Cook until one side is firm and then flip it over and cook for 30 seconds to a minute until golden on both sides.

7. Place the crépe on a plate and continue cooking until all the batter is used. Place a sheet of tin foil or baking parchment between each
The information on this site does not take into account the specific circumstances of any viewers, readers or listeners, and therefore you are advised to consult your own doctor before under going any weight loss programme featured in Operation Transformation. The opinion of the panel does not constitute and should not be regarded as a substitute for doctors advice.