Day 41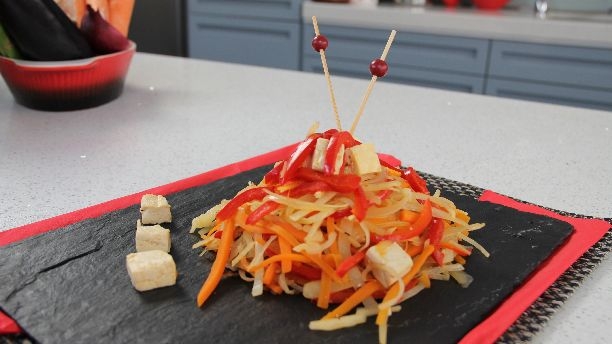 Sweet chilli stir fry with tofu
Serves 4 - (Each serving contains approx 450-500 Kcal)
Ingredients
320g marinated tofu pieces (or plain whichever you prefer)
600g cabbage, shredded
400g carrots, thinly sliced in batons
2 medium onions, sliced
2 red peppers, sliced
100g Sweet Chilli Sauce
200ml vegetable stock
2 cloves garlic crushed
1tbsp olive oil
Method:
1. Add the oil to a hot wok. Add the shredded cabbage and carrots. Cover and cook for 2 minutes.

2. Add the vegetable stock, onions, peppers and garlic and stir well. Cover and cook for 6 minutes.
3. Add the tofu pieces, stir and warm through for 1 minute.
4. Add the sweet chilli sauce and stir through.
5. Serve.

The information on this site does not take into account the specific circumstances of any viewers, readers or listeners, and therefore you are advised to consult your own doctor before under going any weight loss programme featured in Operation Transformation. The opinion of the panel does not constitute and should not be regarded as a substitute for doctors advice.