Day 38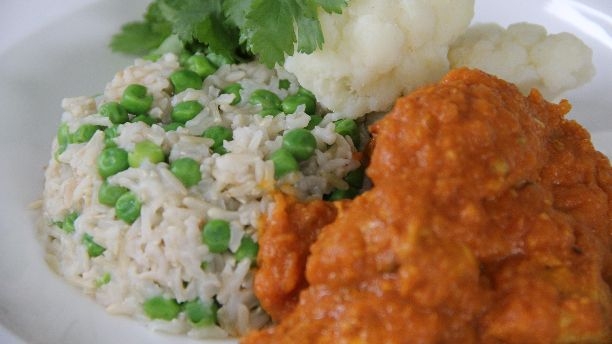 Chicken Tikka Masala
Serves 4 - (Each serving contains approx 450-500 Kcal)
Ingredients
For the marinade you will need:
600g chicken breasts, cut into chunks
½ tsp grated ginger
2 cloves garlic, crushed
3 tbsp natural yogurt
50ml low fat milk
½ tsp chili powder
½ tsp turmeric
½ tsp garam masala
½ tsp paprika
½ tsp ground cumin
½ tbsp coriander seeds, crushed
For the sauce you will need:
300g onions, sliced
2tbsp soy sauce
2tbsp natural yogurt
2tbsp rapeseed oil (or ground nut oil)
250ml boiling water
2tbsp tomato puree
½ tbsp grated ginger
2 garlic cloves, crushed
½ tsp paprika
½ tsp turmeric
½ tsp garam masala
¼ tsp chili powder
½ tsp cumin
½ tbsp coriander seeds, crushed
You will also need:
200g basmati rice
400g cauliflower florets
450g frozen peas
Method:
For the marinade:
1. Place yogurt, all marinade spices and milk in a bowl and mix well.

2. Add the chicken and coat well with the marinade mixture.

3. Refrigerate for at least one hour, ideally overnight

4. When ready to cook remove excess marinade from the chicken and place on an oven tray lined with baking parchment.

5. Place the chicken in an oven at 200șC for 15 minutes or until chicken is cooked through.
To make the sauce:
1. Add the oil to a large pan on a medium heat. Add the onions and fry for about 8 minutes. Cover and cook until onions are brown, stirring occasionally.

2. Add the garlic and ginger and fry for a minute

3. Mix in the rest of the spices

4. Add 250ml boiling water, soy sauce and tomato puree and stir well

5. Transfer the sauce to a jug, add the yogurt and blend until smooth.

6. Place the cooked chicken in a pan, add the blended sauce and warm through. Keep warm until needed.
The rice, peas and cauliflower
1. Cook the basmati rice according to packet instructions. For the last 3 minutes of cooking time at the frozen peas to the rice.

2. Steam the cauliflower for about 5 minutes until just tender.

3. Serve with the chicken tikka masala and cooked rice and peas.
The information on this site does not take into account the specific circumstances of any viewers, readers or listeners, and therefore you are advised to consult your own doctor before under going any weight loss programme featured in Operation Transformation. The opinion of the panel does not constitute and should not be regarded as a substitute for doctors advice.