Day 37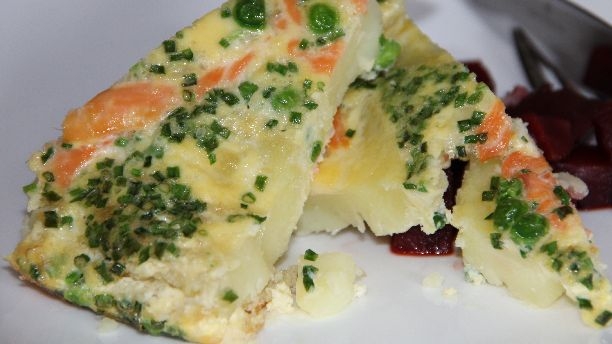 Smoked salmon potato and pea frittata
Serves 4 - (Each serving contains approx 450-500 Kcal)
Ingredients
200g smoked salmon, cut in wide
strips
500g thickly sliced potatoes
400g beetroot (either fresh cooked or vacuum packed)
8 eggs
100g frozen peas
20g chopped chives
1 tbsp balsamic vinegar / 1tbsp orange juice
Method:
1. Cook the potatoes in a pan of boiling water until just tender, about 10 minutes. Drain well and leave to cool.

2. Crack the eggs into a bowl, beat with a fork until lightly foamy, then stir in the smoked salmon, chives and peas.

3. Stir in the potatoes.

4. In a non stick pie dish spray some oil or line it with baking parchment.

5. Carefully pour the frittata mixture into the pie dish.

6. Place in oven at 200șC for approx. 25mins until the egg is set and the surface is becoming nicely brown.

7. Place beetroot in a bowl and stir in the balsamic vinegar.

8. And serve
The information on this site does not take into account the specific circumstances of any viewers, readers or listeners, and therefore you are advised to consult your own doctor before under going any weight loss programme featured in Operation Transformation. The opinion of the panel does not constitute and should not be regarded as a substitute for doctors advice.