Day 36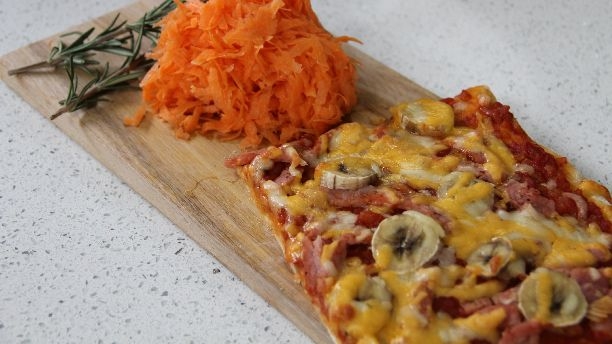 Pizza with bacon, garlic and banana
Serves 4 - (Each serving contains approx 450-500 Kcal)
Ingredients
Pizza dough:
300 g strong white flour
1 regular baking yeast sachet
½ teaspoon salt
200 ml lukewarm water
1 tablespoon olive oil
Tomato sauce:
1 x 400g can chopped whole tomatoes
1 medium onion, chopped
1 beef stock cube
1 teaspoon olive oil
pinch of black pepper

Toppings:
180g Traditional bacon cut in small strips
120g grated low fat mozzarella cheese
2 bananas,
2 cloves garlic, crushed
For the salad:
4 carrots (grated)
Juice of 1 lemon
Method:
1. To prepare the pizza dough place yeast, water and olive oil and salt in a bowl.
2. Add flour slowly and mix with your hand to create a round ball. When the dough sticks to your hand, just scrape it off with the back of a table knife.
3. Cover the bowl with a clean tea towel and leave to rise in a warm place for 40 minutes.
4. To prepare the tomato sauce: Heat oil in a non-stick saucepan or a wok. Add the onions and fry gently until soft.
5. Add the tomatoes, black pepper and beef stock cube. Simmer for approximately 3 minutes to create a thick sauce.
6. Fry the sliced bacon with the garlic for 1 minute and set aside until needed.
7. Preheat oven to 200 °C. Line a baking tray with baking paper. Sprinkle the baking tray with flour.
8. Sprinkle some flour on the dough and place it on a floured surface.
9. Roll the dough and use your fingers to stretch it so it fits your baking tray. Use extra flour if needed. Transfer to baking tray.
10. Cover pizza base with the tomato sauce.
11. Evenly sprinkle the cooked bacon and garlic on top of the tomato sauce followed with the sliced banana. Finally finish with the mozzarella.
12. Place in an oven at 200șC for 10-15 minutes or until dough is cooked and cheese melted.
13. To prepare salad, mix together the grated carrots and lemon juice.
14. Serve.

The information on this site does not take into account the specific circumstances of any viewers, readers or listeners, and therefore you are advised to consult your own doctor before under going any weight loss programme featured in Operation Transformation. The opinion of the panel does not constitute and should not be regarded as a substitute for doctors advice.