Day 35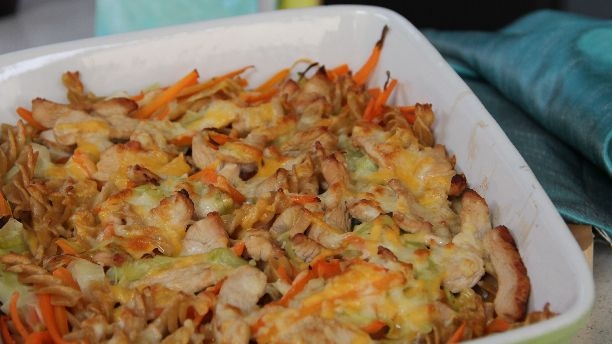 Turkey & vegetable pasta bake
Serves 4 - (Each serving contains approx 450-500 Kcal)
Ingredients
400g turkey breast, in strips
400g carrots, thinly sliced
400g leeks washed and thinly sliced
300ml low fat milk
200g wholewheat fusilli
50g grated low fat mozzarella cheese
1 chicken stock cube
2tbsp Teriyaki sauce
3tbsp white flour
20g butter
Method:
1. Bring a litre of water to boil in a large saucepan. Add the
stock cube.
2. Add the pasta, carrots and leeks to the pot. Reduce heat and
simmer for 8-10 minutes.
3. Spray some oil onto a non-stick pan over a medium heat.
Add the turkey and fry for 5 minutes.
4. Add Teriyaki sauce and fry until the turkey is cooked through.
Set aside until needed.
5. To make the white sauce, melt the butter on a low heat.
6. Sprinkle flour into the butter, stirring regularly and add the
milk gradually.
7. Continue stirring regularly to make a smooth sauce.
8. Spray some oil on an oven dish.
9. Drain the pasta and vegetables and place in the dish.
10. Mix the cooked turkey with the drained vegetables and
pasta.
11. Pour the white sauce over vegetables, pasta and turkey &
sprinkle with mozzarela.
12. Place dish in oven at 200 °C for 10 minutes.
13. Serve.
The information on this site does not take into account the specific circumstances of any viewers, readers or listeners, and therefore you are advised to consult your own doctor before under going any weight loss programme featured in Operation Transformation. The opinion of the panel does not constitute and should not be regarded as a substitute for doctors advice.