Day 34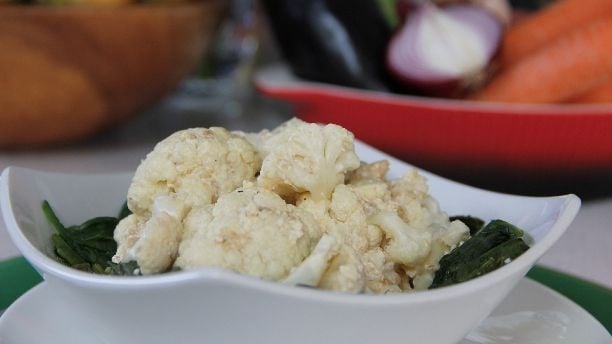 Cauliflower spinach gratin with feta-oat cream
Serves 4 - (Each serving contains approx 450-500 Kcal)
Ingredients
900g Cauliflower, trimmed and cut in florets
450g washed spinach
200g light feta cheese, crumbled
200ml low fat milk
200g tub low fat crème fraiche
30g oats
2 cloves of garlic, crushed
2tbsp soy sauce
Grated zest of ½ lemon
Freshly crushed black pepper
Spray oil
Method:
1. Spray some oil into a large oven dish Place spinach in the
dish and cover with cauliflower florets.
2. In a bowl place the feta cheese and mash well.
3. Add the rest of the ingredients and mix with the feta.
4. Pour the mixture over the cauliflower and spinach.
5. Cover with tinfoil and place in oven at 200ºC for 40mins Or
until vegetables are al dente.
6. Serve
The information on this site does not take into account the specific circumstances of any viewers, readers or listeners, and therefore you are advised to consult your own doctor before under going any weight loss programme featured in Operation Transformation. The opinion of the panel does not constitute and should not be regarded as a substitute for doctors advice.