Day 33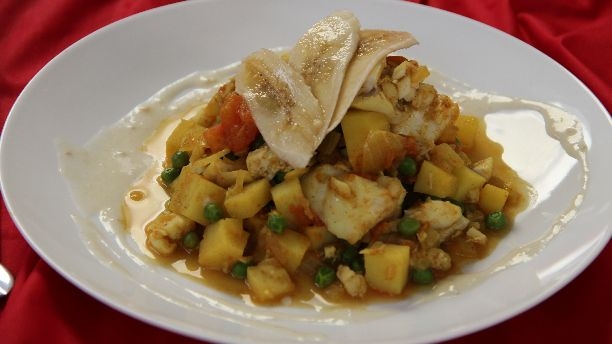 Fish curry Cape Malay style
Serves 4 - (Each serving contains approx 450-500 Kcal)
Ingredients
520g white fish fillets
3 onions, chopped
6 peeled and chopped plum tomatoes
4 potatoes cut in small cubes
100ml boiling water
450g frozen peas
60ml soy sauce
5 crushed garlic cloves
1 tsp turmeric
1 tsp garam masala
1 tsp coriander ground
1 tsp cumin
5 cardamom seed pods, ground with pestel and mortar
1 tsp cinnamon
1tbsp olive oil
For the sauce:
250g 2 small bananas
200ml low fat natural yoghurt
1 tbsp low calorie sweetener
Method:
1. Pour olive oil in a non-stick large pan and add onions and spices and fry gently for 2 minutes to release the aromas

2. Add the tomatoes and 100ml of boiling water. Stir.

3. Add the potatoes and cook, covered, for 10-15 minutes.

4. To make the sauce put the yogurt, sliced bananas and sweetener into a jug and blend until smooth.

5. When the potatoes are just cooked add the peas,fish and soy
sauce. Close the lid and cook for 3 minutes.

6. Uncover the pan, stir gently and cook for a further 2 minutes with the lid off.

7. And serve.
The information on this site does not take into account the specific circumstances of any viewers, readers or listeners, and therefore you are advised to consult your own doctor before under going any weight loss programme featured in Operation Transformation. The opinion of the panel does not constitute and should not be regarded as a substitute for doctors advice.