Day 31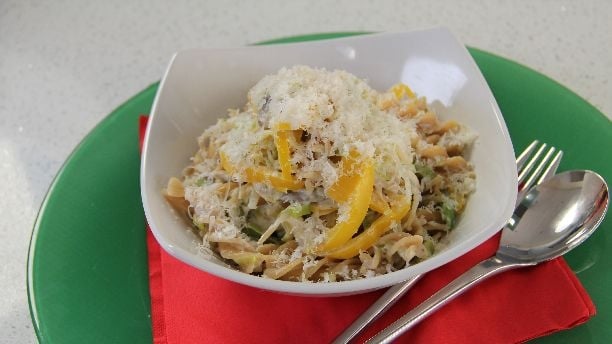 Vegetable parmesan cream pasta
Serves 4 - (Each serving contains approx 450-500 Kcal)
Ingredients
200g Mushrooms sliced
200g Leeks washed and sliced
1 yellow pepper, sliced
1 green pepper, sliced
1x 410g can of Bean sprouts, drained
250g extra light soft cheese
300g whole wheat penne
100ml vegetable stock
Grated parmesan for garnish
1tbsp olive oil
Method:
1. Heat the oil in a large non-stick pan. Add the leeks, mushrooms, peppers. Cover and cook for 5-10 minutes until
vegetables are just cooked.

2. Add the vegetable stock once your pan gets dry and sticky.
Add the beansprouts.

3. In the meantime prepare the pasta according to packet
instructions..

4. Once vegetables are cooked stir in the low fat soft cheese. If
the sauce is very dry, add a little boiling water to moisten it.

5. Mix with drained pasta.

6. Dish up in 4 bowls sprinkled with parmesan cheese.
The information on this site does not take into account the specific circumstances of any viewers, readers or listeners, and therefore you are advised to consult your own doctor before under going any weight loss programme featured in Operation Transformation. The opinion of the panel does not constitute and should not be regarded as a substitute for doctors advice.