Day 3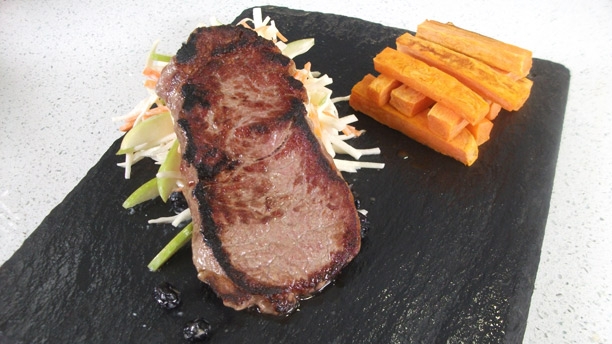 Steak and Sweet Potato Chips and Coleslaw
Steak and sweet potato chips and coleslaw - Day 3
Serves 4 - (Each serving contains approx 450-500 Kcal)
Ingredients:
600g sirloin steak (cut in 4 steaks)
800g sweet potatoes peeled and cut in thick chips
2tbsp vegetable oil
Salt and pepper

For the coleslaw:
350g shredded cabbage
200g apple sliced into thin strips
200g carrots cut julienne
50g dried blueberries or dried cranberries
200ml fat free natural yogurt
100ml orange juice
1tbsp Dijon mustard
Method:
1. Spray a baking tray with spray oil. Place the sweet potatoes on
the baking tray. Season with a little salt.
2. Place in an oven at 200șC for about 20 minutes until cooked.
3. To make the coleslaw place the yogurt, orange juice and
mustard in a large bowl and mix well to make a dressing.
4. Add the cabbage, carrot, apple and cranberries and mix well
with the dressing. Set aside until needed.
5. Heat a heavy pan over a high heat until the pan is very hot.
6. Add the oil.
7. Add the steaks and sear on one side for 2 ½ minutes.
8. Turn and cook on the other side for 2 ½ minutes.
9. Serve your steak and chips with the coleslaw on the side.
The information on this site does not take into account the specific circumstances of any viewers, readers or listeners, and therefore you are advised to consult your own doctor before under going any weight loss programme featured in Operation Transformation. The opinion of the panel does not constitute and should not be regarded as a substitute for doctors advice.