Day 29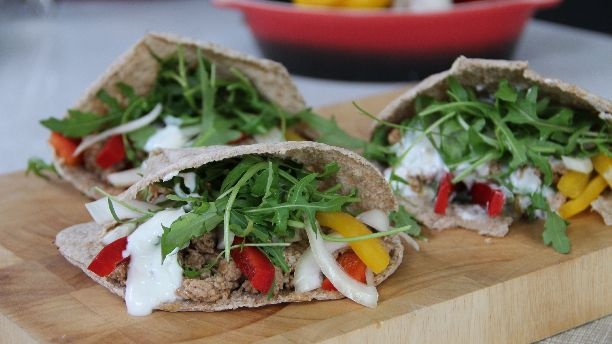 Turkey kebabs with garlic sauce
Serves 4 - (Each serving contains approx 450-500 Kcal)
Ingredients
450g Turkey mince
1 onion, sliced
2tbsp ketchup
1tbsp white wine vinegar
1tsp Dijon mustard
1tbsp Teriyaki sauce
1tbsp Garam Masala
1tbsp olive oil/rapeseed oil
1 red & 1 yellow pepper, sliced
60g rocket, washed
200ml low fat natural yougurt
2-6 garlic cloves crushed (depending on taste)
2 wholewheat pitta breads per person
Method:
1. Add the oil to a hot pan. Add turkey mince and fry for 3
minutes or until browned.
2. Add the garam masala, mustard, teryaki sauce, vinegar,
mustard and ketchup and cook for 2 more minutes
3. To make the garlic sauce combine the garlic and yogurt
and stir well.
4. Sprinkle water on the pitta breads and place under a grill
for 30 seconds to warm through.
5. Fill the pittas with peppers, onion, rocket, cooked turkey
and top off with some garlic sauce.
6. Serve.

The information on this site does not take into account the specific circumstances of any viewers, readers or listeners, and therefore you are advised to consult your own doctor before under going any weight loss programme featured in Operation Transformation. The opinion of the panel does not constitute and should not be regarded as a substitute for doctors advice.