Day 27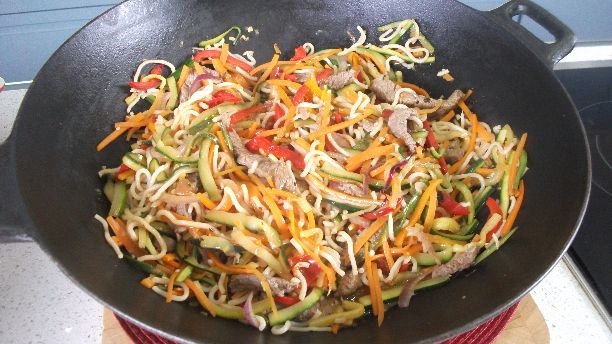 Black bean beef stir fry with noodles
Serves 4 - (Each serving contains approx 450-500 Kcal)
Ingredients
400g beef cut in strips
300g carrots, sliced in thin strips
1 red onion cut half moon strips
400g courgettes cut in thin strips
1 red pepper, de-seeded and thinly sliced
300g Cooked rice noodles
100ml black bean sauce
1tbsp ginger grated
1tbsp garlic crushed
60ml soy sauce
1tbsp groundnut oil

Method:
1. Add the oil to a hot wok. Add the carrots, courgettes and peppers, stirring frequently. Stir fry for 2 minutes. Add 100mls boiling water.

2. Add the ginger, the garlic, the beef and onion and black bean sauce. Stir and close lid. Cook for two minutes. If the wok gets too dry you can add some water as needed.

3. When vegetables and beef are cooked stir in cooked noodles. Close lid so noodles can cook for 3 minutes.

4. And serve.
The information on this site does not take into account the specific circumstances of any viewers, readers or listeners, and therefore you are advised to consult your own doctor before under going any weight loss programme featured in Operation Transformation. The opinion of the panel does not constitute and should not be regarded as a substitute for doctors advice.