Day 26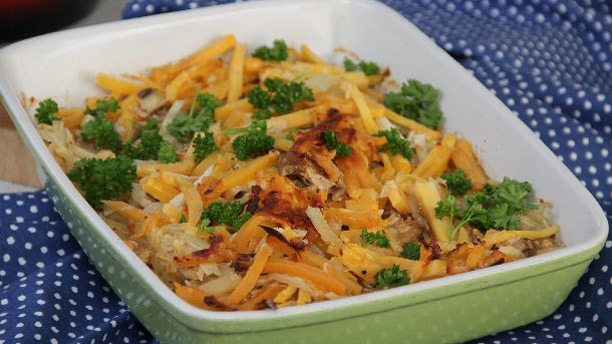 Eva's kipper surprise
Serves 4 - (Each serving contains approx 450-500 Kcal)
Ingredients
400g potatoes sliced into thin strips
400g celeriac, sliced into long thin strips
400g turnip, sliced into long thin strips
300g onion, sliced
190g can of Kipper fillets in brine, drained and broken into small
pieces.
200g Low fat Crème fraiche
100g low fat grated mozzarella cheese
100ml milk
1 clove garlic, crushed
3tbsp (30ml) soy sauce
Freshly ground black pepper
*Note: if you can't eat fish you could substitute 300g of cooked ham cut in thin strips

Method:
1. In a pan on a medium heat, fry the onions gently. While they fry add 50ml boiling water to soften them.

2. Spray some oil into a large oven dish.

3. Layer your ingredients into the dish. Start with the potatoes.
Then add some onions and some kippers. Some celeriac followed
by onions and more kippers. Use the turnips as your top layer.

4. Mix the crème fraiche, milk , garlic and soy sauce in a jug and
pour evenly over the dish. Sprinkle with the mozzarella cheese.

5. Cover with tinfoil and place in the oven at 200ºC for 40-50
minutes.

6. Once during cooking remove from the oven and gently move the ingredients around to keep moist. Return to oven for rest of cooking time..

7. And serve.
The information on this site does not take into account the specific circumstances of any viewers, readers or listeners, and therefore you are advised to consult your own doctor before under going any weight loss programme featured in Operation Transformation. The opinion of the panel does not constitute and should not be regarded as a substitute for doctors advice.