Day 24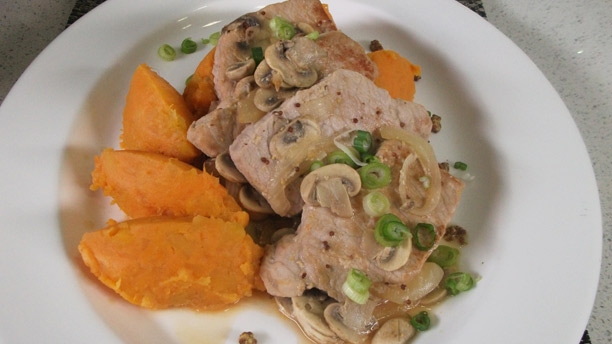 Pork chops, creamy mustard mushroom sauce and mash
Serves 4 - (Each serving contains approx 450-500 Kcal)
Ingredients
400g pork chops, trimmed
600g turnip, diced
600g sweet potatoes, diced
1 onion sliced
150g mushrooms sliced
400ml beef stock
200g tub of low fat crème fraiche
1tbsp wholegrain mustard
Spray oil

Method:
1. Bring 300ml of the beef stock to the boil in a pot. Add sweet potato and turnips . Reduce heat and simmer for approximately 20 minutes or until the vegetables are very tender.

2. In the meantime make the sauce. Spray a non stick pan with oil. Add onions and mushrooms and fry quickly.

3. Add the remaining 100ml beef stock and mustard. Stir, cover and simmer for two minutes.

4. Add the low fat crème fraiche, stir and heat through. Put aside while you fry the chops.

5. In another pan fry the pork chops over a medium heat for about 10 minutes. Turn the chops regularly and make sure they are cooked through.

6. Add a little liquid from the cooking vegetables to keep the chops moist as they cook.

7. At this stage, drain the cooked vegetables and mash well.

8. And Serve
The information on this site does not take into account the specific circumstances of any viewers, readers or listeners, and therefore you are advised to consult your own doctor before under going any weight loss programme featured in Operation Transformation. The opinion of the panel does not constitute and should not be regarded as a substitute for doctors advice.