Day 22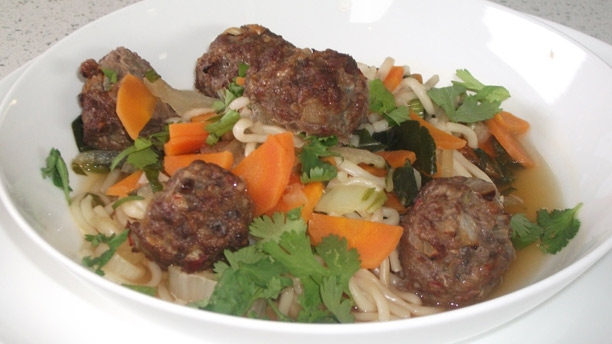 Spiced meatballs with pak choi noodle broth
Serves 4 - (Each serving contains approx 450-500 Kcal)
Ingredients
500g minced beef
150g onion, chopped
15ml soy sauce
1 egg
¼ red chili finely chopped
2 cloves garlic, crushed
1tbsp grated fresh ginger
Light fry oil
For the broth:
300g pak choi, thinly sliced
200g carrots, thinly sliced
300g ready cooked rice noodles
3 spring onion, thinly sliced
1000ml beef stock
2tbsp fish sauce
2tbsp soy sauce
1tbsp grated ginger
2-3 kaffir lime leaves
1 tbsp fresh coriander, roughly chopped

Method:
1. Place non stick pan on a medium heat, spray with oil, add onions and fry gently until soft.

2. In a large bowl place the minced beef, grated ginger, crushed garlic, soy sauce, red chili and the egg and mix well. Add the fried onion and mix until combined.

3. Shape small balls with the help of a teaspoon and place them on a large oven tray covered with baking paper. You should get approx. 28 meatballs, (7 per person)

4. Place in 200 degree oven and cook for 15 mins.

5. While the meatballs are cooking pour the beef stock into a large pot. Add pak choi , carrots, spring onions, soy sauce, fish sauce, grated ginger &kaffir lime leaves.

6. Simmer for about 5 minutes or until the carrots retain a little bite.

7. Add the rice noodles and cook for 3-4 minutes.

8. Remove the meatballs from the oven and serve in bowls with the pak choi noodle broth.
The information on this site does not take into account the specific circumstances of any viewers, readers or listeners, and therefore you are advised to consult your own doctor before under going any weight loss programme featured in Operation Transformation. The opinion of the panel does not constitute and should not be regarded as a substitute for doctors advice.