Day 21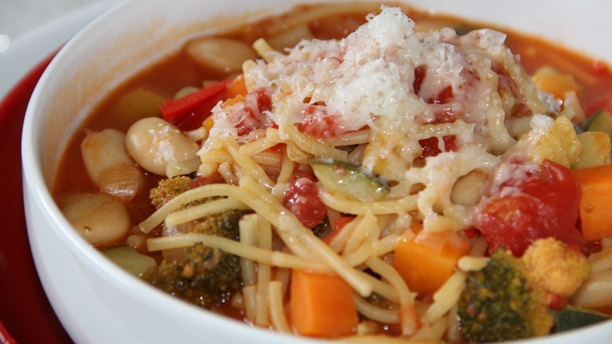 Italian pasta minestrone
Serves 4 - (Each serving contains approx 450-500 Kcal)
Ingredients
2x 400g cans of whole peeled tomatoes
1 medium onion, diced
300g courgettes, diced
250g carrots, diced
150g Broccoli florets
1 Red pepper, diced
1 can Butter Beans, drained
200g fideo pasta or spaghetti snapped into small pieces
1 Litre vegetable stock
1tbsp (15ml) whole black pepper corns
1tbsp grated parmesan cheese
3 Bay leaves
½ tsp dried oregano
1 tbsp olive oil

Method:
1. Heat a large pot and add the olive oil.

2. Add the onions and fry until soft.

3. Add the courgettes, carrots, broccoli, peppers and stir.

4. Add the tomatoes, oregano, pepper corns, peppers corns,
bay leaves and vegetable stock. Cover and simmer for 5
minutes.

5. Add the pasta and cook for 8-10 minutes.

6. Add the butter beans, and cook until the beans are warmed
through.

7. Serve with parmesan sprinkled on top.
The information on this site does not take into account the specific circumstances of any viewers, readers or listeners, and therefore you are advised to consult your own doctor before under going any weight loss programme featured in Operation Transformation. The opinion of the panel does not constitute and should not be regarded as a substitute for doctors advice.