Day 20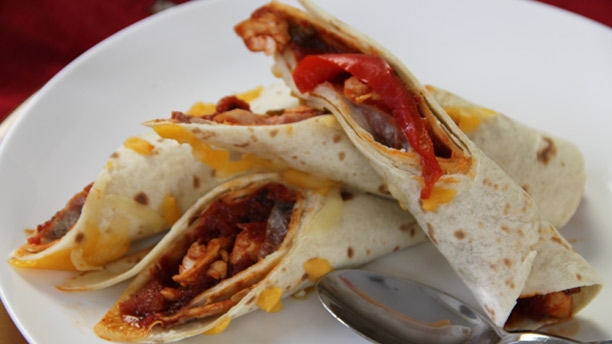 Chicken enchiladas
Serves 4 - (Each serving contains approx 450-500 Kcal)
Ingredients
450g chicken breast cut in strips
250g onions, finely diced
1 red pepper, sliced
1 yellow pepper, sliced
1 green pepper, sliced
2x400g can of peeled plum tomatoes
50 low fat mozzarella cheese
8 small tortilla pancakes (approx. 100Kcal each)
½ tsp red chilli powder
1 chicken stock cube
2tbsp soy sauce
1tbsp olive oil
Method:
1. Heat oil in a large non-stick pan. Add the onion and chicken
breast strips and fry for few minutes until chicken is lightly
browned.

2. Add tomatoes, peppers, soy sauce, stock cube and chili
powder. Stir well.

3. Simmer uncovered for approximately 25 mins until a thick
sauce is formed.

4. Spoon the mixture into the middle of a tortilla and roll.

5. Place into oven tray. Repeat this with the remaining 7
tortillas.

6. Sprinkle with low fat mozzarella cheese and place in oven at
200șC for 5-10mins until the cheese is slightly crispy.

7. Serve
The information on this site does not take into account the specific circumstances of any viewers, readers or listeners, and therefore you are advised to consult your own doctor before under going any weight loss programme featured in Operation Transformation. The opinion of the panel does not constitute and should not be regarded as a substitute for doctors advice.