Day 19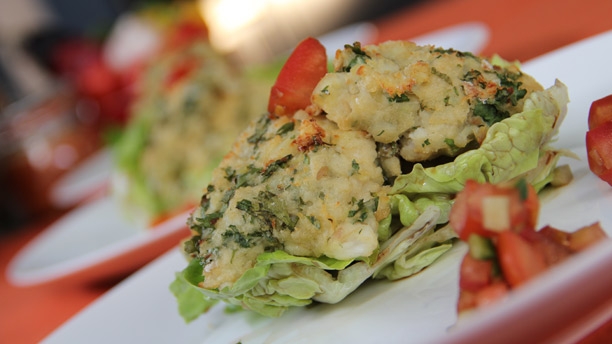 Fish cakes with salad
Serves 4 - (Each serving contains approx 450-500 Kcal)
Ingredients
For the fish cakes:
500g frozen or fresh white fish fillets, such as pollock or whiting
500g mashed potatoes
2tbsp Low fat crème fraiche
500ml fish stock
1tbsp parsley & 1 tbsp coriander, chopped
2tbsp soy sauce
Flour for dusting
For the salad:
2 baby gem lettuce
4 tomatoes, finely chopped
1 cucumber, finely chopped
4tbsp Balsamic vinegar
Method:
1. In a large pan bring the fish stock to the boil and place the
white fish into the pot and simmer for 8 minutes if frozen( 4
minutes if fresh).

2. Combine the cooked fish with the mashed potato and crème
fraiche.

3. Add chopped herbs and soy sauce and mix well.

4. With floured hands shape the mixture into 12 cakes. Lightly dust each one with flour and then place on an oven tray covered with baking paper.

5. Spray each fish cake with light oil and place on top shelf of an
oven at 200ºC for 10-15 minutes until fishcakes are slightly brown.

6. Prepare your salad by adding balsamic vinegar to your salad
vegetables and tossing in a bowl.

7. Serve
The information on this site does not take into account the specific circumstances of any viewers, readers or listeners, and therefore you are advised to consult your own doctor before under going any weight loss programme featured in Operation Transformation. The opinion of the panel does not constitute and should not be regarded as a substitute for doctors advice.