Day 16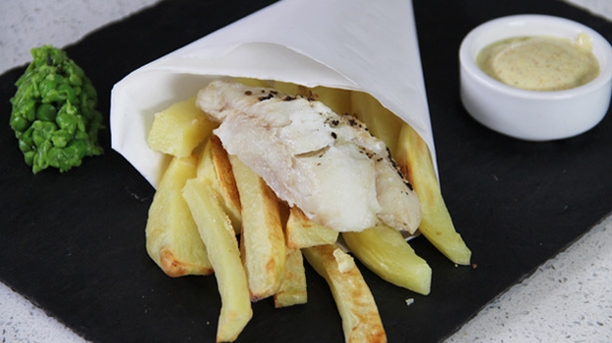 Fish & chips with mushy peas & curry sauce
Serves 4 - (Each serving contains approx 450-500 Kcal)
Ingredients
450g frozen cod fillets or similar white fish
1 kg potatoes peeled and cut into thick chips
600g frozen garden peas
1000ml chicken stock
Freshly ground black pepper
100ml Low fat crème fraiche
1tbsp fresh basil OR mint leaves, chopped
2-3 cloves garlic crushed
100ml natural low fat yoghurt
1 tsp medium curry powder
2 tsp olive oil
Method:
1. Spray oil on a large oven tray..
2. Place chips on oven tray. Sprinkle with salt and place in oven at 200ºC for 20 minutes.
3. Oil another oven dish with 1 tsp of oil. Place the fish fillets in a single layer in the dish
4. Sprinkle some lemon juice over them followed by a little oil and freshly ground black pepper.
5. Place in oven for 20 minutes.
6. While the fish and chips are cooking prepare the mushy peas. Bring chicken stock to the boil and add the frozen peas.
7. Bring back to the boil and cook for 3-5minutes.
8. To the drained peas, add low fat crème fraiche, chopped basil and freshly ground black pepper. Mash well until you achieve a nice mushyn texture
9. To make the curry sauce, mix the garlic, curry powder and yoghurt together.
10.Serve
The information on this site does not take into account the specific circumstances of any viewers, readers or listeners, and therefore you are advised to consult your own doctor before under going any weight loss programme featured in Operation Transformation. The opinion of the panel does not constitute and should not be regarded as a substitute for doctors advice.