Day 15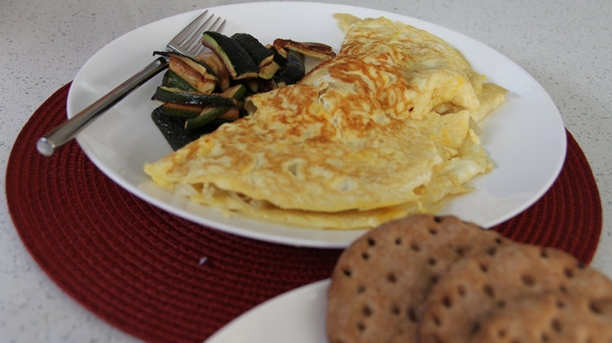 Cream cheese &onion omelette with courgette fries and rye crispbread
Serves 4 - (Each serving contains approx 450-500 Kcal)
Ingredients
8 eggs
3 medium onions, sliced
400g courgettes washed and cut into strips
200 ml low fat milk
120g low fat cream cheese
12 rye crispbreads (3 per person)
2 tbsp soy sauce
200ml vegetable stock
Light spray oil
Method:
1. In a non-stick pan over medium heat place the onions and
vegetable stock. Cover and cook for 10 minutes.
2. While the onions are cooking spray some oil onto an oven
tray
3. Place the courgette chips onto the tray, spray with oil and
sprinkle with the soy sauce.
4. Put the courgettes into the oven at 200șC for about 15
minutes.
5. Uncover the onions and cook for 5 minutes to allow excess
water evaporate. Transfer the onions onto a plate.
6. For each omelette, crack 2 eggs into a bowl.
7. Add 50 ml of the milk and whisk well with a fork.
8. Spray light oil onto a non-stick pan and place over medium
heat. Pour egg mixture into the pan and cook.
9. Once the omelette has cooked and is firm spread 30g soft
cheese in the middle of it and add a quarter of the onion mixture. Fold the omelette in half in the pan.
10.Serve the omelette with the courgette chips and 3 rye crisp
bread.

The information on this site does not take into account the specific circumstances of any viewers, readers or listeners, and therefore you are advised to consult your own doctor before under going any weight loss programme featured in Operation Transformation. The opinion of the panel does not constitute and should not be regarded as a substitute for doctors advice.