Day 14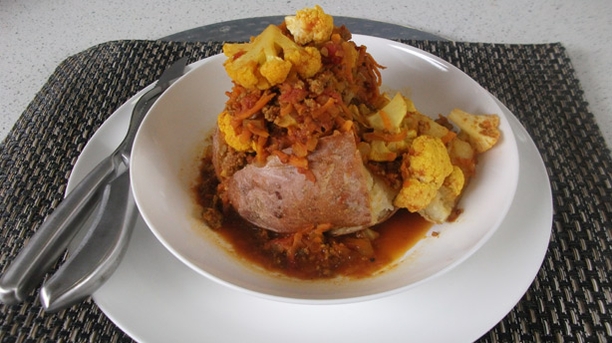 Italian bolognese with baked potato
Serves 4 - (Each serving contains approx 450-500 Kcal)
Ingredients
500g beef steak mince
4 (approx. 1000g) Irish Rooster baking potatoes, washed
400g carrots grated
150g onion, chopped
500g cauliflower florets
2x400g cans of whole peeled tomatoes
2 cloves garlic crushed
1 beef stock cube
2tbsp (30ml) tomato puree
2tbsp(30ml) soy sauce
1tbsp (15ml) turmeric
1tbsp olive oil
Freshly ground black pepper
Method:
1. Prick the potatoes with a sharp knife and place in oven at 200șC for approx. 40mins. While potatoes are baking prepare the
sauce.

2. Pour oil into a large non-stick pan. Add the onion and fry for a
few minutes.

3. Add mince meat and cook until brown.

4. Add whole peeled tomatoes and carrots. Close lid and simmer
for about 15 minutes, stirring occasionally.

5. Add beef stock cube, turmeric, freshly ground black pepper,garlic, tomato puree and soy sauce Stir and simmer for
approx 10 minutes until the sauce has thickened.

6. Add cauliflower florets. Cover and simmer for 5 minutes.

7. Remove lid and let excess water evaporate while stirring
regularly.

8. Pour mince meat sauce over baked potato and serve.
The information on this site does not take into account the specific circumstances of any viewers, readers or listeners, and therefore you are advised to consult your own doctor before under going any weight loss programme featured in Operation Transformation. The opinion of the panel does not constitute and should not be regarded as a substitute for doctors advice.