Day 13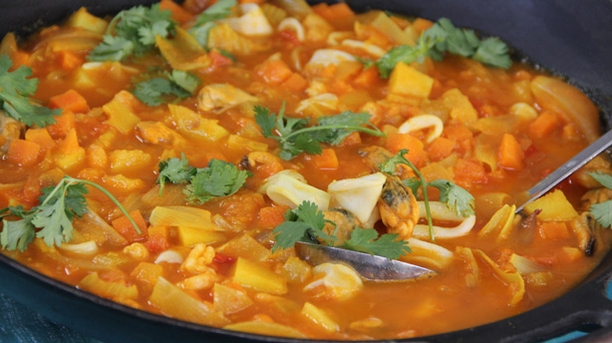 Seafood and vegetable chowder
Serves 4 - (Each serving contains approx 450-500 Kcal)
Ingredients
450g irish seafood mixture, frozen
300g small onions or shallots, peeled and quartered
400g fresh plum tomatoes cut into small dice
400g peeled and chopped baby potatoes or potatoes
300g carrots peeled and cut into small dice
2 celery sticks chopped
500ml boiling water
1tsp (5ml) turmeric
2-3 bay leaves
2 tbsp tomato puree
1tbsp fennel seeds crushed
1tbsp olive or rapeseed oil
Method:
1. Pour oil in a pot and cook the onions and celery over medium heat for a few minutes. Add carrots, potatoes, chopped tomatoes, tomato puree and boiling water.
2. Add the turmeric, crushed fennel seeds and bay leaves.
3. Cook for 10-15mins until the vegetables are tender.
4. Put some of the vegetable mixture into a jug and puree with hand blender or food processor, then return it to the pan.
5. Bring back to a boil and add frozen seafood mixture. Cook for two minutes or so until the seafood is cooked
6. serve

The information on this site does not take into account the specific circumstances of any viewers, readers or listeners, and therefore you are advised to consult your own doctor before under going any weight loss programme featured in Operation Transformation. The opinion of the panel does not constitute and should not be regarded as a substitute for doctors advice.