Day 10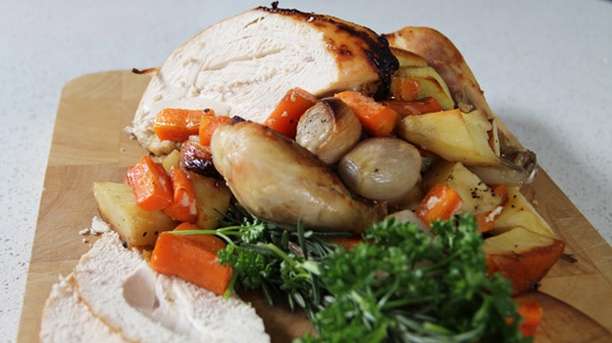 Roast chicken with rosemary vegetables
Ingredients:
1250g whole chicken, skin removed
500g potatoes peeled and cut in big chunks
500g carrots peeled and cut in chunks
500g small onions or shallots peeled and cut in half
Fresh rosemary sprig
1tbsp soy sauce
Black pepper
1 tbsp vegetable stock powder

Method:
1. Pre-heat oven to 200șC.

2. Spray oven dish with light oil and place the vegetables in the
oven dish. Sprinkle pepper and soy sauce over the vegetables.

3. Nestle the fresh rosemary sprig between the vegetables and
chicken

4. Place chicken on the vegetables and rub powdered
vegetable stock directly onto the chicken.

5. Cover the dish with tinfoil and place in the oven for 1 hour.

6. Remove tinfoil and cook for a further 20mins to get more colour.

7. And serve.
The information on this site does not take into account the specific circumstances of any viewers, readers or listeners, and therefore you are advised to consult your own doctor before under going any weight loss programme featured in Operation Transformation. The opinion of the panel does not constitute and should not be regarded as a substitute for doctors advice.