How to Join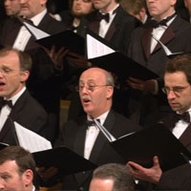 The RTÉ Philharmonic Choir holds auditions for new members throughout the choral year (late August to early June) , which usually take place in RTÉ. We are happy to hear all voice types but tenors and basses are particularly welcome to apply.
We always encourage prospective new singers to join us for a few rehearsals first before auditioning, to meet Mark Hindley and Phil members and get an idea of the standard and commitment required as well as have a good sing!
The Choir performs five or six concerts each concert season, usually with the RTÉ National Symphony Orchestra in the NCH, conducted by visiting international conductors. You must be free to rehearse regularly on Wednesday evenings (7.30pm-10pm) usually held in the RTÉ Radio Centre or in the Donnybrook area, plus extra, compulsory commitments during concert weeks. There are also occasional Saturday workshops which focus on general choral technique as well as a specific piece of repertoire. A good level of sight-singing is very helpful as our schedule is demanding but hugely rewarding!
If you are interested in joining, or just wish to know more about us, you are welcome to contact the RTÉ Quartet and Choirs Adminstrator, Lesley Bishop, lesley.bishop@rte.ie 01 208 2977 for more information.
Download the application form below or email Lesley for one.
Follow Us:
Next Performances
---
Links of Interest