Our Chorus Master and Staff 2015-16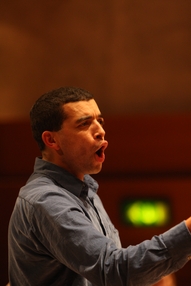 MARK HINDLEY began his musical life as a Chorister at Lichfield Cathedral, learning the organ there before progressing to Malvern College where he was awarded an Organ Scholarship to Sidney Sussex College, Cambridge as a pupil of David Sanger.
Although initially qualifing as a doctor, his passion for music enticed him away from pursuing medicine as a career. He has wide-ranging musical interests, but much of his time is spent conducting and directing. His background has led naturally to many years of close involvement in church music, holding positions at St Matthew's Church Northampton, St Paul's Cathedral in Dundee and Great St Mary's Church in Cambridge.
In 2003 he returned to Scotland to take up the position of Chorus Master with the Scottish Chamber Orchestra Chorus, signalling a change to working mainly in secular contexts. Over this time he established a close working relationship with many leading conductors, most notably the late Sir Charles Mackerras. He was also Chorus Master of Leeds Philharmonic Society until 2012, leading the Leeds Philharmonic Chorus on successful tours to Poland and Germany including two performances of Elgar's Music Makers with 200 local singers under Jac van Steen in Dortmund.
Mark was appointed Chorus Master of the RTÉ Philharmonic Choir in September 2012 after a year working with the choir during the previous season, which included an highly acclaimed performance of Bach's Christmas Oratorio in St Patrick's Cathedral Dublin (January 2012) with Matthew Halls and the RTÉ National Symphony Orchestra. He has continued to work with The Phil on core repertoire, preparing at least 5 different works for performance each season.
In addition to his work with symphonic choruses, Mark has been Musical Director of the Cumbrian chamber choir, the Wordsworth Singers since 2009, rapidly establishing a reputation for adventurous programming and exciting, vibrant performances. In 2015 he founded a new choir, the Scottish Vocal Ensemble, which draws together the finest choral singers from across Scotland and northern England.
He is in high demand as a choral trainer and has worked with, amongst others, Huddersfield Choral Society, Royal Northern Sinfonia Chorus, Edinburgh Festival Chorus, Royal Scottish National Orchestra Chorus, Edinburgh Royal Choral Union, Scottish Chamber Choir, St Andrews Chorus and Angus Choral Society. Over the past 10 years, he has been at the forefront of community singing events at the new Horsecross Concert Hall in Perth and has led workshops for all age groups in Falkirk, Edinburgh, Leeds, Glasgow and Stirling. He has also worked extensively in higher education, in particular at the University of St Andrews and the University of Cambridge.
He combines his choral work with a busy schedule as a freelance organist and harpsichordist, and has performed widely in the UK, France, Germany, Belgium, Spain, Poland and the USA.
FERGAL CAULFIELD - repetiteur obtained his academic credentials from Trinity College, Dublin, graduating with BA and PhD degrees in music.

As a performer, Fergal studied piano with Peter Dains at the Royal Irish Academy of Music, and the organ with with Professor Gerard Gillen at the Pro-Cathedral, Dublin, and he holds performance and teaching diplomas in both instruments. He attended various scholarship master-classes in the UK and Belgium.

As well as many performances abroad, he has given solo organ recitals at most of the major concert venues in Ireland, including the National Concert Hall, the Wexford and Galway Arts Festivals, St. Michael's Church Dún Laoghaire, the Pro-Cathedral Dublin, and Trinity College Chapel,including a recital of contemporary Irish organ music given as part of the Dublin International Organ Festival. He has appeared as soloist in concerto performances with a number of ensembles, including the National Symphony Orchestra (with whom he has performed the Organ Symphonies of Marcel Dupré, Camille Saint-Saens and Aaron Copland), and is a former prize-winner of the Dublin International Organ Festival. He is also widely in demand as a vocal and instrumental accompanist.

As a chamber musician, Fergal is a member of the Clarion Trio (piano, viola and clarinet). He works regularly as an orchestral keyboard player with the RTÉ National Symphony and RTÉ Concert Orchestra, as well as repetiteur for the RTÉ Philharmonic Choir, in addition to other long-standing associations with the National Chamber Choir of Ireland and Dun Laoghaire Choral Society.
Our Choral Steward for this year is Ciarán Crangle. Ciarán has been involved in music and drama all his life, being a past member of RTÉ Cór na nÓg with interests in radio, TV production and vocal performance. He is continuing his studies in the RIAM as a vocal performance student, working towards his BA Music (Performance) degree.
Follow Us:
Next Performances
---
Links of Interest