About "The Phil"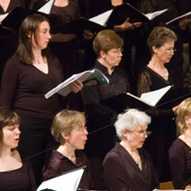 The RTÉ Philharmonic Choir has been at the centre of choral music in Ireland since its foundation by Colin Mawby in 1985.The choir was further developed by Mark Duley, Chorus Master for 15 years (1996-2011), and has become the country's premier symphonic choral ensemble , performing more than 85 major choral works since its foundation, mostly in conjunction with the RTÉ National Symphony Orchestra. The choir also broadcasts frequently on RTÉ lyric fm and has recorded for Naxos, Decca and RTÉ.

Following his appointment as Chorus Master in 2012, Mark Hindley continues to bring his unique mix of musicianship, professionalism and wit to rehearsals, with the choir achieving standards of performance unsurpassed in its history. Recent reviews refer to the Phil as being highly responsive and at the top of its game (Irish Times).

The choir members, all of whom commit their services entirely voluntarily, meet each Wednesday from 7.30pm-10.00pm for rehearsals in the Donnybrook area. Occasional Saturday workshops focus on an upcoming programme and give the opportunity to work more intensively on technique and musicianship. The Phil has always been keen to emphasise the enjoyment of music-making as well as the hard work and committment required , its members coming from Dublin and surrounding counties and spanning all generations!

The choir regularly welcomes new members, holding auditions as required throughout the year. Please contact Lesley Bishop (RTÉ Choral Administrator) for further information - lesley.bishop@rte.ie 01 208 2977


As always, the RTÉ Philharmonic Choir will be an integral part of the 2016-17 RTÉ National Symphony Orchestra Subscription Season performing Arvo Pärt (Salve Regina/ Adam's Lament, 28 Oct 2016), Handel's Messiah (6 Jan 2017 ), the Bruckner Te Deum, and world premiere of a new work by Gerald Barry, Humiliated and Insulted (10 Feb 2017) St Matthew Passion by Bach (Good Friday 14 April 2017), ending with Elgar's majestic The Dream of Gerontius (19 May 2017) all in original languages, with renowned international conductors Mark Hindley, Tõnu Kaljuste, Hans Graf, Matthew Halls and Gerhard Markson.
The choir and RTÉ NSO will also perform in the final concert of the Composing The Island Festival of Irish music in September 2016 with pieces by Norman Hay (The Wind Among the Reeds) and Rhoda Coghill (Out of the Cradle, Endlessly Rocking) conducted by Chorus Master Mark Hindley.

Follow Us:
Next Performances
---
Links of Interest