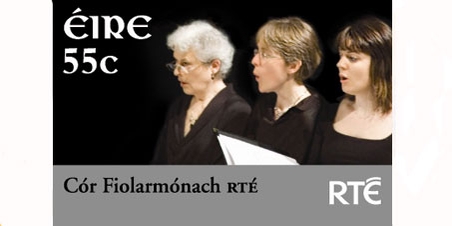 An Post's RTÉ Philharmonic Choir Stamp
Part of a 5 stamp series launched by An Post on Tuesday 19 June
News & Events
Choral Rarities for our 2013-14 Season
The RTÉ Philharmonic Choir will perform a number of rarely performed works during their 2013-14 season after opening with one of the world's best loved choral favourites, Verdi's Requiem. Five of the six pieces are also first performances by the choir, which now has over 85 different works in its repertoire over 28 years.
+More Information
The RTÉ Philharmonic Choir to sing with the Chieftains!
The Phil will celebrate "The Gathering" with the "High Kings" of traditional Irish music, the legendary Chieftains, over two nights in July (Friday 19 , Saturday 20 ) , accompanied by the RTÉ National Symphony Orchestra.
+More Information
GOOD FRIDAY 29 MARCH 2013
RTÉ presents performances of St John Passion by J S Bach and Haydn's The Seven Last Words of Christ on the Cross in the National Concert Hall, Dublin.
+More Information
Follow Us:
Next Performances
---
Links of Interest