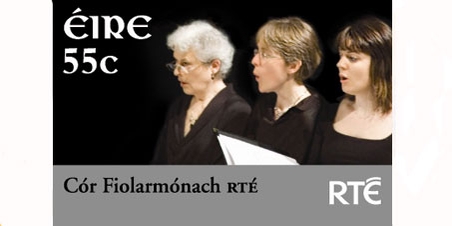 An Post's RTÉ Philharmonic Choir Stamp
Part of a 5 stamp series launched by An Post on Tuesday 19 June
News & Events
Opera's Greatest Choruses at the Helix
In this magnificent feast for aficionados and first-timers alike, some of the world's most famous and powerful opera choruses are brought to life. Over 150 musicians and singers from the RTÉ Concert Orchestra and RTÉ Philharmonic Choir fill the stage and balcony and are joined by world-class soloists including young Irish star mezzo-soprano Sharon Carty and soprano Mairead Buicke. Opera's Greatest Choruses takes place on Friday February 7th at the Helix, Dublin. Tickets are from just €11. More information.
+More Information
New Choral Appointments August 2012
RTÉ Performing Groups is pleased to announce the following appointments to its Choral artistic team this Autumn:
+More Information
Choral Rarities for our 2013-14 Season
The RTÉ Philharmonic Choir will perform a number of rarely performed works during their 2013-14 season after opening with one of the world's best loved choral favourites, Verdi's Requiem. Five of the six pieces are also first performances by the choir, which now has over 85 different works in its repertoire over 28 years.
+More Information
Follow Us:
Next Performances
---
Links of Interest