The Three Sopranos Summer Gala with four listeners from Radio 1's John Murray Show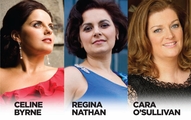 RTÉ National Symphony Orchestra and RTÉ Radio 1's John Murray Show Radio 1 present first Irish tour of The Three Sopranos Summer Gala
Kathryn Thomas to present concerts on stage in Galway, Limerick and Cork for John Murray Show
Risin' Time's Shay Byrne to present the closing concert of the tour in Waterford
FULL BOOKING DETAILS BELOW

Summer time, and the living will be surely be exhilarating in June as Kathryn Thomas joins Celine Byrne, Regina Nathan and Cara O'Sullivan - three of Ireland's finest sopranos - and the RTÉ National Symphony Orchestra to present The Three Sopranos Summer Gala on stage in Leisureland, Galway, University Concert Hall, Limerick and City Hall, Cork for RTÉ Radio 1's John Murray Show.
Kathryn will present concerts in Galway, Limerick and Cork from Wednesday 5 to Friday 7 June inclusive and Risin' Time's Shay Byrne will present the closing concert of the tour in Waterford on Saturday 8 June. John Finucane conducts. The John Murray Show will follow the tour with reports from Kathryn following concerts in Galway and Limerick and a final radio item on Monday 10 June following concerts in Cork and Waterford. RTÉ lyric fm will broadcast the concert live from Cork.
With solos, duets and specially arranged trios, the tour promises some of opera's most memorable and moving songs and arias as well as thrilling orchestral interludes. Three sublime voices and three centuries of sumptuous music promise one glorious highlight after another including Depuis le jour, Porgi amor, Vissi d'arte, the Flower Duet from Lakmé as well as specially arranged trios of O mio babbino caro, Brindisi and Sempre Libera. Booking is now open for all four venues. See venue booking details below.
In celebration of the first The Three Sopranos Summer Gala tour, each concert will feature a John Murray Show listener, selected through the radio programme's 'Sing with the Sopranos Search', singing the popular Neapolitan song O Sole Mio on stage with the three sopranos and the RTÉ National Symphony Orchestra.
The four Radio 1 listeners are from Athy, Dublin, Loughrea and Coolboy, Tinahely Co Wicklow. They will be coached in advance by one or more of the singers and joined the RTÉ National Symphony Orchestra and the three sopranos for their first rehearsal and first lesson on 30 April at the National Concert Hall. The listeners are:
Padraig Connaughton from Loughrea, Co Galway, performing in the tour opening in Leisureland, Galway on Wednesday 5 June. Padraig is a service manager in Leahy's Garage in Loughrea and a part-time sheep farmer who sings to his sheep! He is married to Helena and they have a baby daughter born in March. Read more.
Sean O'Mahony, originally from Kildimo in Co Limerick and now living in Athy, Co Kildare, performing in University Concert Hall, Limerick on Thursday 6 June. Sean is a Garda based in Athy. Married to Marie, they have one son aged 4. Read more.
Lorraine Melia, originally from Glasnevin and now living in Castleknock, Dublin, performing in City Hall, Cork on Friday 7 June. Lorraine works in the home. As a teenager, she had to chose between singing and the Civil Service. She 'took the sensible job'. Lorraine is married to Sean and has 4 children, ranging in age from 6 to 18. Read more.
Wendy Thibault, originally from Glencullen and now living in Coolboy, Tinehely Co Wicklow, performing in WIT College Hall, Waterford on Saturday 8 June. Wendy works in the home. She is married to Maurice and has 5 children ranging in age from 8 to 18. She sings in her local church choir and with Carnew Musical Society. Read more.
VENUE BOOKING
Wednesday 5 June, 8pm: Galway: Leisureland
Tickets: €25 (concession €22, student €15)
Booking: Town Hall Theatre, www.tht.ie | 091 569777
Thursday 6 June, 8pm: Limerick: University Concert Hall
Tickets: €35 (concession €32.50) €30 (balcony), €20 (choir balcony)
Booking: University Concert Hall | www.uch.ie | 061 331549
Friday 7 June, 8pm: Cork: City Hall
Tickets: €35, €30, €25
Booking: The Everyman / www.everymancork.com / 021 4501673
Saturday 8 June, 7.30pm: Waterford: WIT College Hall
Tickets: €25 (Concession €18)
Booking: Garter Lane Arts Centre| www.garterlane.ie | 051 855038


Follow Us:
You Tube
Next Performances
---
Links of Interest