Karen Power biography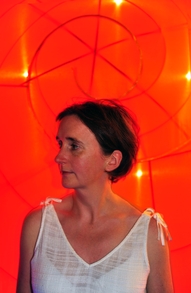 Karen Power (b. 1977) is an Irish composer who writes primarily for acoustic and electroacoustic forces. Her initial interest in composition came during her undergraduate degree in University College Cork where she familiarised herself with as many musical styles as were on offer while developing a compositional language with 'post-minimalist' influences.
In 2009 she completed a PhD in acoustic and electroacoustic composition at SARC (Sonic Arts Research Centre), Belfast, with Professor Michael Alcorn. Throughout her PhD, Karen's works focused on the commonalities and individualities of both acoustic and electroacoustic composition aiming to develop a more integrated language that acknowledges and utilizes such strengths.
Recently Karen has spent time in residency at the Banff Centre, Canada, and the Guesthouse, Cork, and was a composer fellow at UC Davis in California. Karen has written pieces for Alarm Will Sound, SCAW, Carin Levine, the Ulster Orchestra, Kate Ellis, Mmm Trio and Quiet Music Ensemble. She has been awarded national and international awards and honorary mentions for her work and has represented Ireland internationally on a number of occasions. Most recently, she received the 2011 Ruth Anderson Prize, which will enable the creation in 2012 of a quadraphonic sound installation comprising of multiple soundscapes from five locations across the globe. Karen's compositional interests are constantly shifting, transforming and re-shaping, with recent projects including a new piece for orchestra and live electronics, a sound and movement collaborative work with Mary Nunan and installation work.
Karen is an active improviser who specialises in using environmental and everyday sounds as catalysts for constructing new sound worlds, which also feed in to her educational work with children and adults.
Karen is currently a board member of the AIC (Association of Irish Composers), is an active member of Sound and Music, IAWM (International Alliance for Women in Music) and SEAMUS (Society for Electro-Acoustic Music in the US), and a former founding member of the ICC (Irish Composers' Collective).

Follow Us:
You Tube
Next Performances
---
Links of Interest