RTÉ NSO 2010 Mentoring Scheme for Advanced Young Musicians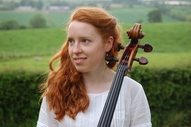 Nine of Ireland's leading young instrumental students, ranging in age from 20 to 23 and from counties Dublin, Cork, Kilkenny and Donegal, will join the RTÉ National Symphony Orchestra in performance under Principal Conductor Alan Buribayev this Friday, 12 November, at the National Concert Hall as part the RTÉ NSO's newly developed Mentoring Scheme for Advanced Young Musicians.
Sitting in all four sections of the orchestra (strings, woodwind, brass, percussion), they will perform in two of the three works on the programme: Respighi's Fountains of Rome and the Bartók's mighty Concerto for Orchestra, one of the towering achievements of twentieth-century repertoire.
The final nine are students from the DIT Conservatory of Music and Drama, the Royal Irish Academy of Music and the Cork School of Music. Selection for the scheme was on the basis of a full orchestral audition before a panel of key players from within the RTÉ NSO: Leader, Alan Smale; Flute Section Leader, Catríona Ryan and Acting French Horn Section Principal, Bethan Watkeys.

To find out more about the individual players and to read their blogs, click here. Below, more about the scheme and comment from some of the students and the RTÉ NSO General Manager, Christine Lee, see below.
The RTÉ NSO 2010 Mentoring Scheme follows on from pilot schemes developed with the Royal Irish Academy of Music in 2008 and 2009. It aims to reach out to advanced instrumental students at third level colleges in Dublin, Cork, Waterford and Belfast offering them the opportunity to audition, rehearse and perform with Ireland's only professional symphony orchestra and with conductors and soloists of international stature. The opportunity for all participants to perform with the RTÉ NSO in concert is a significant development in the 2010 scheme. Feedback from RTÉ NSO players to the young musicians in relation to the varying demands of orchestral rehearsal and performance is a major element of the mentoring process.
Students participating have commented on the value of the RTÉ NSO mentoring scheme at this stage in their development as musicians. For several, like violinist Hugh Murray (22), from Douglas in Cork and studying in the Cork School of Music, the audition process provided the first experience of a full orchestral audition at the level of the RTÉ National Symphony Orchestra. For Hugh, 'playing before a panel of section principals was a nerve-racking experience but I feel a lot more confident having come through unscathed.' For others, like cellist Catherine McHale (22), from Lifford, Co Donegal, studying cello in the Royal Irish Academy of Music whilst also pursuing a M.Eng. Structural Engineering degree in UCD, this opportunity will help her decide 'if I should pursue the music further' and will allow her 'to talk to the members of the cello section about pursuing a musical/orchestral career and to hear about their own experiences.' Percussionist Clare O'Keefe (20), from Ballincollig and studying in the Cork School of Music, believes that the scheme will give her 'a great understanding of how professional orchestras work, great experience for future orchestral opportunities and the opportunity to learn a lot from the other experienced percussion players'. For clarinettist Léonie Bluett (21), from Kilkenny and studying at the Royal Irish Academy of Music, the chance 'to play in a very good programme with [RTÉ NSO Principal Conductor] Alan Buribayev conducting is what [she is] most looking forward to.'
Commenting on this year's scheme, Christine Lee, RTÉ NSO General Manager says: 'After national auditions earlier this autumn, the RTÉ NSO is delighted to offer these nine talented, young musicians the opportunity to work alongside the orchestra and Principal Conductor Alan Buribayev in one of the most exciting subscription concerts of the 2010-2011 season. We welcome the students onto the platform with us, and the players of the RTÉ NSO look forward enormously to sharing their professional experience with the students with the wish that this opportunity gives valuable encouragement and support for their future musical careers.'

Full details on the 2010 students
Follow Us:
You Tube
Next Performances
---
Links of Interest