Naoise Ó Briain, flute (23)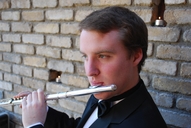 Naoise Ó Briain, flute (23)
Studying in the Royal Irish Academy of Music with William Dowdall
Naoise's biography
Naoise Ó Briain was born in 1987 and has just graduated from the Royal Irish Academy of Music with an Honours BA Performance Degree with Professor William Dowdall. He studied at the RIAM from the age of six and has won numerous scholarships and all the major flute competitions in Ireland. He performed the Nielsen flute concerto at the NCH earlier this year and was principal flautist with the National Youth Orchestra of Ireland for a number of years. He is passionate about orchestral music but also has a
keen interest in other genres including jazz, electronic music and especially traditional Irish music. Naoise comes from a family steeped in Irish culture and always enjoys a good 'trad' session.
Blog Day 1 - Wednesday 10 November
Really great experience today working with the RTE NSO. They really are a great bunch. Its a fantistic programme and its a joy to be a part of it. Looking forward to the concert. Long day for me, just finished teaching at 9.30, time for bed and another action packed day tomorrow.
Blog Day 2 - Thursday 11 November
Very enjoyable rehearsal today with the RTÉ NSO at the National Concert Hall. I was very happy to be asked by Caitriona to play the solo for two flutes in the Bartók. Great to get the thumbs up from Maestro Alan Buribayev: he's a real joy to work with.
I've been watching this orchestra play from a very young age. I especially remember hearing Beethoven's Sixth Symphony when I was very young. When I heard flute imitating the Nightingale I think I knew even at that young age that the flute was my favourite instrument.
Blog Day 3 - Friday 12 November
Today's rehearsal started at 10. It was mostly a chance to run the programme, not necessarily in concert order and also for Alan Buribayev to rehearse any small details that he spotted.
We started with the 3rd movement of the Bartók. I don't have much to play in this movement but there are some tricky moments in the wind section where we all have different rhythmic figures that are not supposed to be together. I found this a little tricky as it goes against you're gut instinct, but I think it's not so bad as long as you stick with Maestro Buribayev. We also had a chance to run the second movement again. This was nice as it gave me confidence that the solo for two flutes would not be a problem. The Respighi went very well in the rehearsal and I think Alan Buribayev was very happy with it.
The concert
The concert went very well. I always feel a little nervous before concerts and tonight was no exception. I think that this adrenaline rush pushes you and often enables you to play better that you normally might. The Respighi was the first piece in the programme. I always see so many colours every time we play this piece and with Maestro Buribayev the colours are always incredibly vivid. The Bartók was a lot of fun to play. It is such a technically demanding piece and I really enjoyed the experience! I'd just like to thank the RTÉ National Symphony Orchestra for giving me the opportunity to play in such a fantastic concert.



Follow Us:
You Tube
Next Performances
---
Links of Interest