Léonie Bluett, clarinet (21)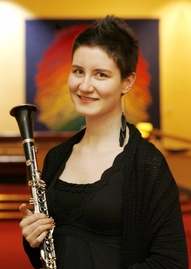 Léonie Bluett, clarinet (21)
Studying in the Royal Irish Academy of Music with John Finucane
Léonie's biography
Léonie's clarinet studies started at the Kilkenny School of Music with Philip Edmondson. She is now in her final year of the BA in Music Performance at the Royal Irish Academy of Music, studying with John Finucane. She is a multiple prize winner at the Feis Ceoil, Dublin, the RIAM Music Festival and the Kilkenny Music Festival, with competition wins including the Contemporary Cup in 2009 and the McCullough Cup for Woodwind Concerto in 2008. As an orchestral player, she played principal clarinet with the National Youth Orchestra of Ireland for three years and played with the RIAM Symphony Orchestra and pianist John O'Conor on a 2009 American tour which included a concert in Carnegie Hall.
Léonie enjoys playing in chamber ensembles as well as solo performing, and took part in the International Summer Academy for Chamber Music in Frenswegen, Germany in Summer 2009 and 2010. She has also participated in masterclasses with renowned clarinettists such as Eddy Vanoosthuyse, Robert Spring, Fabio Di Casola, Andrew Roberts, Johannes Peitz, Thomas Lindhorst and Carol McGonnell. In December she will take part in the International Clarinet Competition 'Marco Fiorindo' in Italy, and next year hopes to continue her studies with a Masters in clarinet in Germany or Switzerland. In May 2011, she will perform the Copland Clarinet Concerto with the RIAM Symphony Orchestra in the National Concert Hall.

Blog Day 1 - Wednesday 10 November
The first day of rehearsals went quite well for me. It took a while to get used to playing as part of the orchestra, not helped by the fact that in the beginning I was constantly worried of playing something very wrong and totally embarrassing myself! Fortunately, nothing went majorly wrong, and I settled into playing as part of the orchestra and then found it quite enjoyable. Of course I learned a lot about orchestral playing - about listening and constantly adjusting to what is happening around you. It probably helps that the pieces are fun to play too, but it all just contributes to the fact that I am looking forward to the rehearsals tomorrow!
Blog Day 2 - Thursday 11 November
Second day of rehearsal was an open rehearsal with some school students and teachers looking on, starting with the Respighi Fountains of Rome. It's a wonderful piece, really capturing the sounds and movements of water fountains, and atmosphere of Rome - it's always very tempting to just sit back and listen and forget to count your bars rest!

After the break we continued with the Bartók Concerto for Orchestra, rehearsing different bits from it. Rehearsing with Alan Buribayev is quite amazing, he makes it fun, and has some very good images for some bits (beginning of the second movement the bassoons are turkeys and the oboes are chickens. Quite fitting I think!) resulting in a great sound from the orchestra.

We then got the afternoon off, as the orchestra were rehearsing the Tchaikovsky [Variations on a Rococo Theme] in the afternoon. Decided to do some practice for tomorrow's concert: though I'm feeling pretty good about what I have to play, there are always the odd few tricky bits that catch you out.
Blog Day 3 - Friday 12 November
Rehearsals at 10 again, starting with the Bartók, going over a few last things, and running through some of the movements. Felt quite confident in that I wouldn't mess up what I had to play too much! After the break we continued with Respighi, which we ended up not really rehearsing at all as Buribayev was very happy with it. The piece creates such a beautiful atmosphere and tension at points. It really is a great program for a concert.

We got off early as the rest of the orchestra stayed to rehearse the Rococo Variations - instead we did our video interviews to sum up our experiences of the last few days. Four of us from the mentoring then went for lunch, where talk ended up being mainly about music and the mentoring of course! Then I headed home to relax a bit before returning to the National Concert Hall for 18.30, and more video work.
The concert
It was a little strange standing backstage with everyone just before walking on: I have been to the Friday night concerts quite often, but to be there from the opposite perspective is quite different! Surprisingly I wasn't nervous at all, just a little excited.
The Respighi went well, and afterwards I managed to make it around quickly enough to hear the cellist, Johannes Moser, who was pretty amazing - you could see him having fun with the piece, which is what this is all about.
Then the Bartók - my favourite piece of the week - came and went pretty quickly. All went really well, and it seemed like everything went way better than any of the rehearsals. It was quite a nice feeling at the end, knowing that you had played a part, no matter how small and possibly even insignificant, to make the concert a success. I just hope the audience had as good a time listening as I did playing!
In all, the mentoring was a great experience for me - I learned lots, about orchestral playing, and also what it's like to work in a professional orchestra. Everyone was really friendly and playing was fun. I do hope that I will be able to play with the orchestra again sometime in the near future.



Follow Us:
You Tube
Next Performances
---
Links of Interest